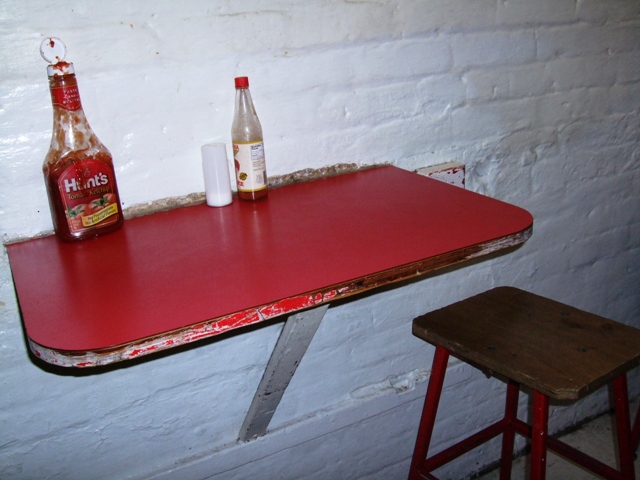 Don't let the look of the ketchup bottle put you off.  You simply must visit this tiny 84-year-old restaurant hidden away in historic downtown Brownsville, Texas.  You'll be able to say you've rubbed shoulders in a place where American President, Lyndon Johnson, once rubbed shoulders, too.
And rub shoulders is exactly what happens here – the walls are only about 6 feet apart.
Read on. . .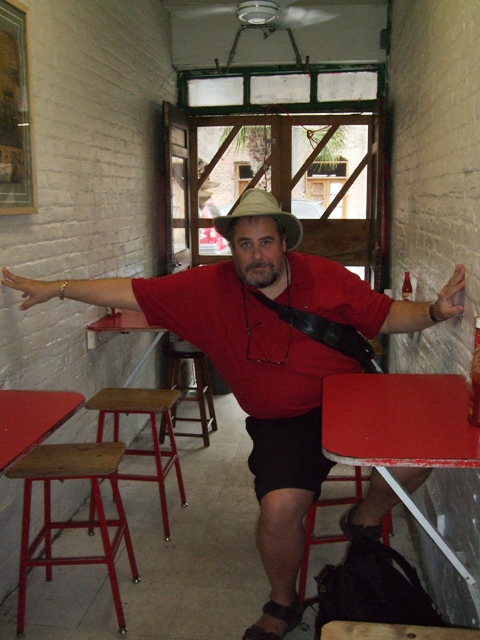 You don't come to this Brownsville burger joint for a great burger; you come to the Rutledge restaurant for a unique experience.  This family-run tiny hallway of a restaurant is a little difficult to find on Washington Street, in between 11th and 12th streets. But it's worth the effort, if only for the claustrophobic adventure.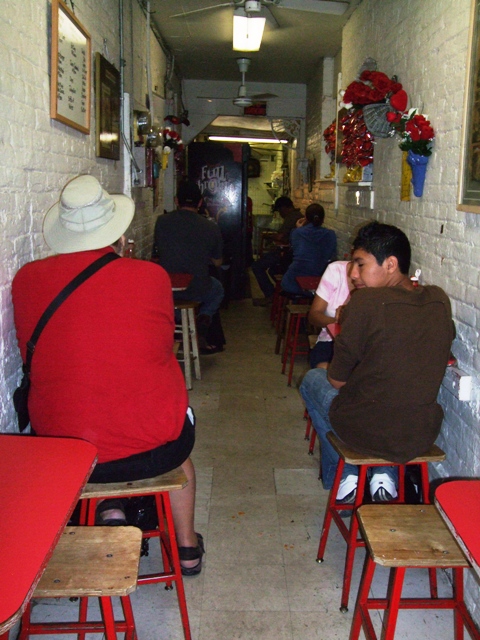 Imagine eating in a tunnel flanked by tiny red-enameled tables attached to white stone walls.  Seats are four-legged square stools that are barely large enough for an ample butt.  If you stand up, be prepared to yield to folks either coming in or leaving.  One of you will have to squish up against the wall to let the other pass.
The waitresses all speak Spanish, so communicating is a little difficult.  But you can point to a faded-out hand-written menu on the wall.  And speaking of the wall, be sure to read a yellowed old newspaper story about the history of the place.  That's where you'll discover that Lyndon Johnson once grabbed a burger here, too.
The burgers are nothing fancy, and they are built on the cheapest white buns imaginable, but they taste pretty good.  They arrive with little fanfare, wrapped in a paper napkin, and with no plate.  But the price is right: $6 for two double cheeseburgers, plus 2 Cokes.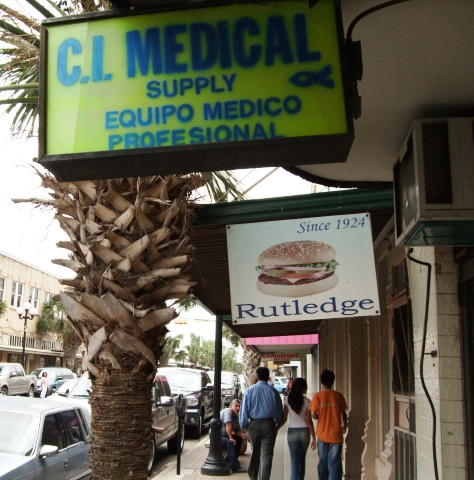 Rutledge restaurant is not a place for long conversations; you eat and move on.  And speaking of moving on and visiting old things, be sure to visit the Brownsville City Cemetery, a few blocks away.  I'll blog about that adventure later.
(You are welcome to comment.  Let me know if my blog has helped you.  Or add a comment if you feel I have missed an important point.  I don't mind correction.  A "dig" on a social networking site would be appreciated, too.  Just use the handy links below.  Subscribe to the Picajet Blog to receive notices of replies to your comments, and new blog postings.)
Tags: american hamburger joints, best burger joints, brownsville texas, hamburger heavens, the tiniest restaurants in the world, tiny restaurants