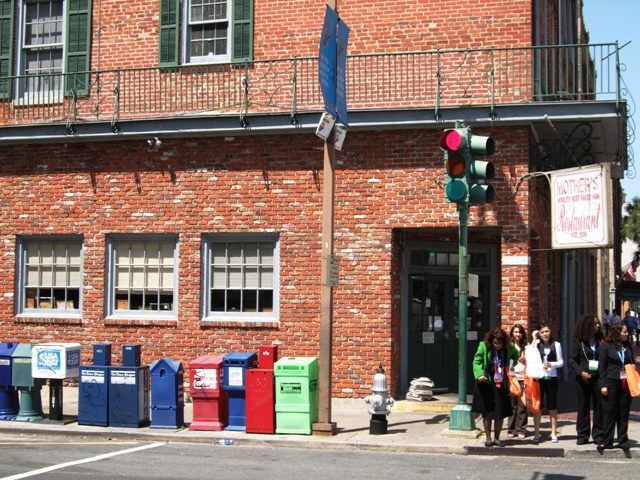 Ignore its dumpy exterior because if you want to eat in this New Orleans restaurant, you'll have to get over first appearances.  Besides, the place was good enough for celebrities like Steve Martin, Jimmy Buffet, Kathleen Turner, Arnold Schwarzenegger, and LeAnn Rimes.
Look for a plain building with a side entrance; one of the entrances probably has a busted door, so you'll have to go to the side.  You'll see lots of people coming and going; that's always a good sign of good eats.  Once inside, don't stand around waiting for any special attention, just grab a menu, and place your order.
Read on. . .
We were a little hesitant at first as we crossed Poydras Street at Tchoupitoulas Street in New Orleans's Central Business District. Mother's Restaurant didn't look like much but we were pretty hungry having walked for several hours, so we decided to take a chance. 
We entered in through a side door since a sign, on what looked to be the front door, advised us that the door was broken.  We walked in to see a huge rectangular room with lots of people, but not a lot of tables.  An old-fashioned table ledge with stools lined one wall overlooking the street.  People of all ages, and all colors, milled about, or were seated at grungy tables (some over-laden with garbage).  But everyone seemed to be chowing down just fine.
After a couple of false attempts, we figured out the system.  Don't wait around to be seated and served.  This is a do-it-yourself kind of place. Grab a menu; place your order at a counter manned by a very talkative young woman.  If you don't know what to order, go for the tried and true "po'boy" sandwich, made with the "world's best baked ham" because that's Mother's specialty (the restaurant bakes it own hams).  Or try the seafood gumbo or crawfish etouffée.
The young lady will give you a till tape receipt imprinted with your items, your name, and a number.  Keep your receipt, and find a table.  Clear the piled debris if you must; there is someone bussing tables, but this place is so busy, she has a hard time keeping up.  By the way, "debris" has a second meaning at Mother's – it's the bits of beef that falls into the gravy while roasting the meat.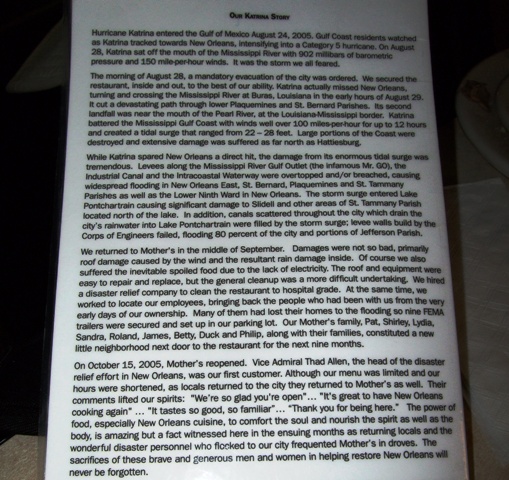 While awaiting your meal, read the walls.  Signs and autographed celebrity photographs adorn the walls.  That's where you'll find quips from the likes of Jimmy Buffet and Steve Martin who says, "I ate at Mother's.  Look at me now. " 
Flip over a menu and you'll find the restaurant's very own Hurricane Katrina survival story. In fact, Mother's re-opened a fairly short time after the hurricane's devastation of the city; on October 15, 2005, the head of the disaster relief effort in New Orleans, Vice Admiral Thad Allen, was the eatery's first customer.
So many of Mother's staff had lost their homes in the storm that management had to set up a temporary trailer park — in its parking lot.  For nine months, staff lived in trailers provided by FEMA (Federal Emergency Management Agency).
Established in 1938, Mother's made its name with its simple home-style cooking.  Founded by Simon A. Landry, and later sold to the Amato brothers in 1986, the restaurant has remained a very popular diner in the Big Easy.  In a year (according to the menu), Mother's cooks "as many pies as there are ships passing through the port of New Orleans (3,500).
We opted for the Ferdi Special, a po'boy sandwich on French bread with shaved baked ham, roast beef and gravy; a thick and delicious seafood gumbo with generous chunks of seafood; French fries, skinny and tasty, many with the skin still on; and moist and delicious bread pudding covered in a buttery caramel hard sauce. 
The food and a refillable soda drink came to $25 with tax.  Yes, it's more expensive to eat here than at a fast food joint, but it's well worth the expense.  Mother's may look like a dive, but the food is just as Mother's menu proclaims: "New Orleans home cooking."
Cheers,
Sheree Zielke
(You are welcome to comment.  Let me know if my blog has helped you.  Or add a comment if you feel I have missed an important point.  I don't mind correction.  A "dig" on a social networking site would be appreciated, too.  Just use the handy links below.  Subscribe to the Picajet Blog to receive notices of replies to your comments, and new blog postings.)
Tags: good food in New Orleans, jimmy buffet, kathleen turner, Mother's Restaurant, New Orleans home cooking, po'boy sandwiches, poydras, seafood gumbo, steve martin, tchoupitoulas, where to eat in New Orleans