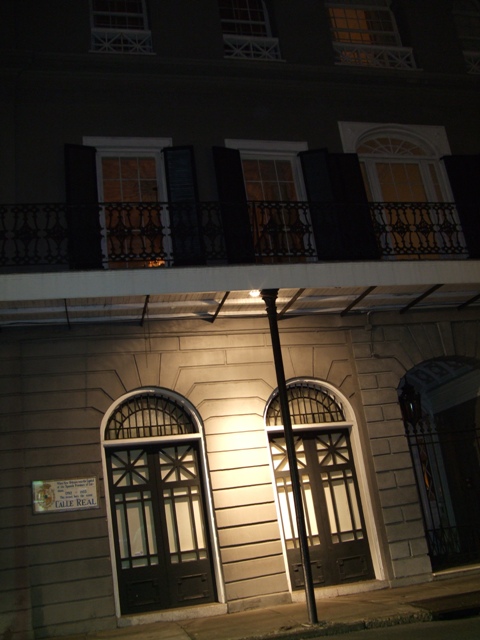 Who owns the most haunted house in New Orleans, Louisiana?  He's a big star, he's done lots of movies, he's an Oscar-winner, and he was once married to the child of a King.  Can you guess?
Okay, here's another clue: he lives down the street from another famous star, in fact, a pair of Hollywood notables: Brad and Angelina.
Have you guessed yet?  No?
Read on. . .
If you happen to be wandering down Royal Street in the French Quarter, or you've taken one of the city's many goofy "ghost tours," then you will probably run across the "most haunted house in New Orleans."  It's on the corner of Royal and Gov. Nicholls streets.  (Whoops, there's another clue there.)
The celebrity in question owns another house in New Orleans, the Harper-Wisinger home; it's in the Garden District and it was once owned by author, Anne Rice. But his house on Royal Street has a more spooky reputation.
The LaLaurie Mansion was built in 1832 by slave owner, Dr. Louis LaLaurie and his wife, Delphine.  During a fire, when firemen broke in, they discovered slaves chained to a wall.  They also discovered the slaves had been tortured, supposedly, by their female owner.  Delphine LaLaurie ran off and was never heard from again.  All that's left now are the moans and chains that rattle in the middle of the night.  And the oohs and aahs of tourists as they stand outside in the dark, breathlessly gawking.
What did our mystery celebrity pay for this mansion of ghoulish delights?  A cool $3,450,000.
Just a few streets up, nearer to the French Market, you'll find the home of this celebrity's famous neighbors: Brad and Angelina.  They purchased their vintage home for a mere 3.4 million dollars, too.  If the lamps are dark, and the shutters are closed, they are probably not home, but you can at least see their three large arched doorways.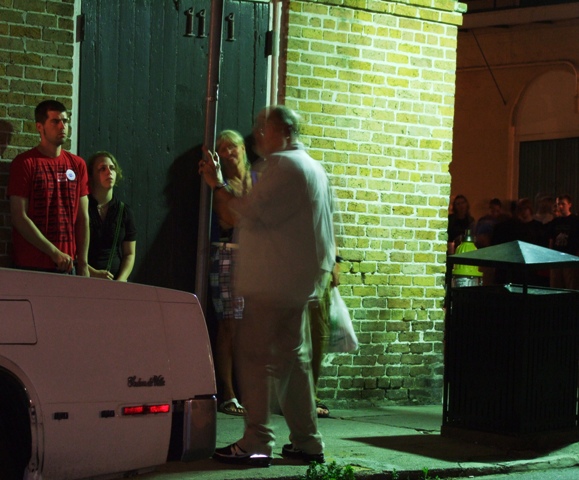 (Above, tourists stand transfixed across the street from the LaLaurie mansion, as a tour guide shares the history of this ghoulish house.)
But back to the celebrity who owns the city's most haunted house.  If you have seen "Gone in Sixty Seconds" or "Ghost Rider" or "Moonstruck" then you will recognize this Hollywood star.  It's none other than Nicholas Cage, nephew of Francis Ford Coppola, and who was once married to Elvis Presley's daughter, Lisa Marie.
So, for chills and thrills in the Big Easy take a smaltzy ghost tour and go see Nicholas Cage's house at 1140 Royal Street.  The odds are you won't see either a ghost or Nicholas, but you can say you've been there.
Cheers,
Sheree Zielke
(You are welcome to comment.  Let me know if my blog has helped you.  Or add a comment if you feel I have missed an important point.  I don't mind correction.  A "dig" on a social networking site would be appreciated, too.  Just use the handy links below.  Subscribe to the Picajet Blog to receive notices of replies to your comments, and new blog postings.)
Tags: haunted houses in new orleans, haunted houses in the united states, haunted real estate, lalaurie mansion new orleans, nicholas cage houses, nicholas cage most haunted house, tortured slaves new orleans