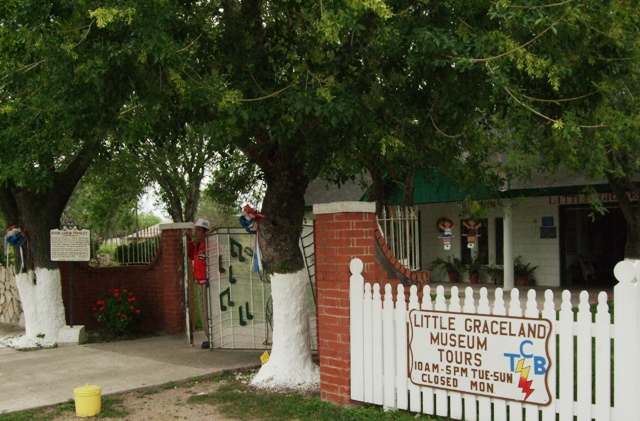 In the army, you never know who you'll be bunking with. Except Simon Vega had a fairly good idea that the dark-haired handsome guy from Tupelo, Mississippi, was special. Back in 1958, Vega shared army duty with none other than the King of Rock and Roll, Elvis Presley. Vega remembers fondly his days with a young Elvis. But remembering his former army buddy wasn't enough for Vega; only a museum would do. But what a place to put a museum!
Read on. . .
In 1980, Vega gave over a room in his home to his small collection of Elvis Presley memorabilia. Now his museum, in the tiny little Texas town of Los Fresnos, "Little Graceland," is world-famous; it's been featured on CNN, and Priscilla Presley has promised to visit Vega's tribute to her late husband.
If you are headed to the southern Texas tropical getaway of South Padre Island, just outside of Brownsville, be sure to spare an hour for a side trip to Vega's home. It's easily located on Highway 100. You'll not meet a nicer, more genuine human being who is brimming with warm and happy stories about Elvis. It'll take at least 45 minutes to view Vega's tiny gallery — but any Elvis fan or vintage memorabilia fan will be drooling in only the first couple of minutes.
Vega proudly displays a mass of magazines featuring Elvis, hundreds of souvenir items, old photographs, newspaper clippings, and toys, like a vintage Barbie and Elvis doll set. Like most collectors, Vega is passionate about his subject, but unlike most collectors he has intimate knowledge of his subject. Elvis and Vega spent two years together in the US army. Vega points out that Elvis drove a jeep at the time, while he was an expert marksman.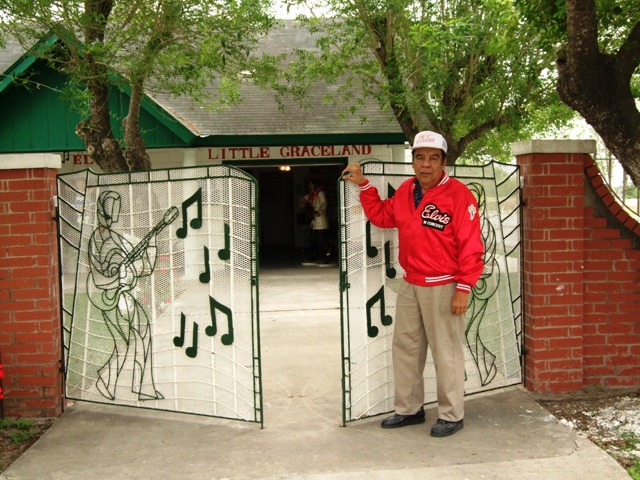 Vega remembers the day he heard Elvis had died. He tells of sitting down to lunch (he was a school teacher at the time) when his sister-in-law ran in to ask him if he'd heard the news. Vega's eyes tear up with the memory, even today, as he recounts the sad event. Two days later, on August 18, 1977, Vega was interviewed by the Harlingen "Valley Morning Star." He shared with the newspaper, just as he shared with us, that Elvis was a nice guy, that Elvis always wanted everyone to be happy. And that Elvis would do things to make people happy. Like give away his army-issued clothing to a buddy.
"Here, take it," is what Vega says Elvis said the day he gave up his green army hat and dress jacket to his friend. "Elvis was very generous," Vega adds. So generous, that at the end of every month, when the army paycheque had run out, Elvis would treat his army buddies to a meal at the base's snack bar. "He knew we were broke," says Vega.
Elvis once offered Vega a job working as part of his road crew, but Vega says he had to turn the job offer down. "Elvis, I said, I got my wife (Teresa) waiting for me back in Texas." As a result, Vega missed being a member of Elvis's famous Memphis Mafia Group. But Vega says Elvis told him the offer would remain open should he ever change his mind. Vega never did, but his affection for his friend remained strong, as did his interest in Elvis as the singer's celebrity status grew. So, he continued to add Elvis memorabilia to his collection.

Today, you will see a huge assortment of Elvis license plates, a 2000 Pepsi Tribute to Elvis as "Artist of the Century," bottle, an Elvis dollar bill (purchased at the real Graceland), a huge collection of newspapers bearing headlines from the day Elvis died, and all of Elvis's 64 record albums, including the first album Elvis ever recorded.
Vega is a bit of a musician in his own right; he penned a tune for and about Elvis called, "The Ballad of Elvis Presley." It was produced in Nashville and he's sold 3000 copies. You can buy a CD copy at the end of your tour of Little Graceland.
On the subject of music, Vega hosts his own mini tribute concerts to Elvis, twice a year, complete with Elvis look-alike and sing-alike impersonators. He sets up a stage, a sound system, and chairs right in his backyard. Vega has already has plans for two concerts in 2009: one in January, and another on the anniversary of Elvis's death, on August 16th. Vega say he wants to honor Elvis by doing something Elvis considered very important: making people happy. That's why he hosts the concerts charging a mere $3 for admission.
Vega does credit to Elvis's spirit of generosity. His little museum will bring a smile to your face, whether you are an Elvis fan or not. There is no admission; you can donate whatever sum you like. And if that doesn't do the trick, then check out the Little Graceland restrooms — they're devoted to the memory of the late great King of Rock and Roll, too. And his wife, Priscilla Presley.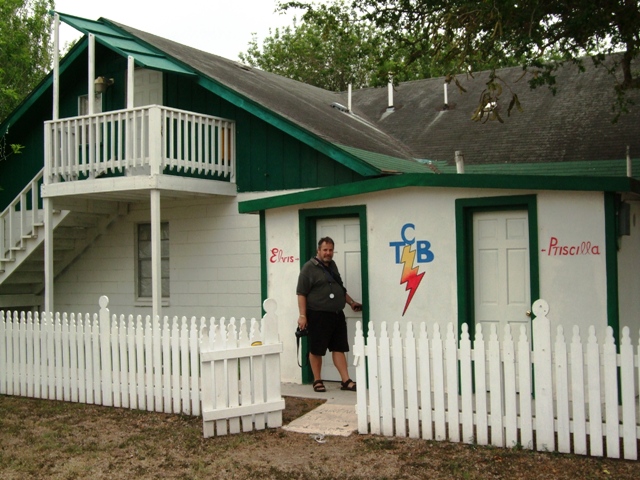 As to Little Graceland Museum hours, take a chance.  We thought it was closed when we arrived, but Vega welcomed us in for a private tour.  What a shame it would be to miss this unplanned side trip in anyone's vacation.
Cheers,
Sheree Zielke
(You are welcome to comment.  Let me know if my blog has helped you.  Or add a comment if you feel I have missed an important point.  I don't mind correction.  A "dig" on a social networking site would be appreciated, too.  Just use the handy links below.  Subscribe to the Picajet Blog to receive notices of replies to your comments, and new blog postings.)
Tags: brownsville texas, elvis attractions, elvis memorabilia, elvis memories, Elvis Presley, king of rock and roll, little graceland, los fresnos, museum, priscilla presley, record albums, simon vega, south padre island, things to do in south texas