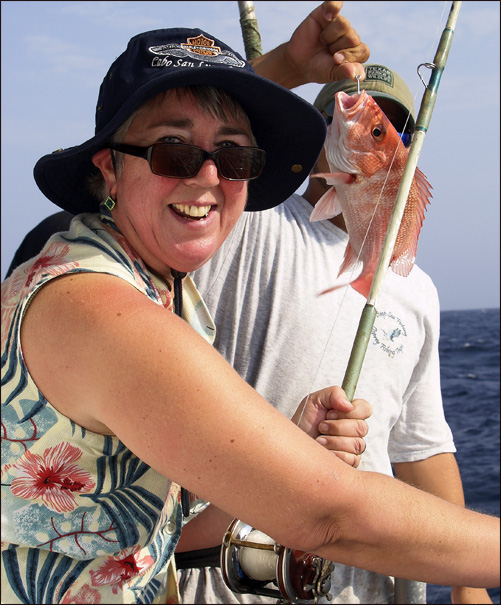 There is hell on earth, and it's called, "deep sea fishing." What was I thinking, or rather, what was my husband thinking when he agreed to a 5-hour deep sea fishing adventure?
We took our first deep sea fishing trip just off the coast of South Padre Island in Texas. To me, it was an adventure; to my husband, it was an unending journey into the depths of hell.
Read on . . .

The sun was just breaking through overcast skies as we made our way out of the harbor on-board the Osprey II, a deep sea fishing vessel.  We had paid our fees, and those who had a valid fishing license now bore blue wristbands.  The rest of us would catch and release.The captain's mate had advised us most seriously that the waters would be rough with 6-8 foot waves.  One older couple took his advice and backed out, but the rest of us sallied forth.  The wise were wearing sea-bands, and had taken their Dramamine.  But for some of us, that wasn't enough.
It was true, the swells were fierce and our little boat bucked like a wild pony; we were in for a couple of hours of this torturous ride, just to get to the fishing grounds.  But it was too late to turn back.I braced myself inside the cabin; others took a seat on an outside bench, while others, like my husband couldn't decide what to do, or where to sit.  They just turned green. The captain's mate viewed the situation and repeated the advice he had given us earlier: "Puke on the outside deck or over the rail."  And then he added with a wicked grin, "The fish don't mind the extra food."
THE FISHING BEGINS (FOR SOME OF US):
We finally arrived at some unknown point in the middle of the ocean, the captain stopped the boat, and the mate dropped the anchor.  We were told the poles were waiting, and that we could have our choice of bait: neat rectangles of squid, or whole herrings. The boat was banging up and down so horribly, that baiting a hook was nearly impossible, at least if one didn't want to hook a finger in the process.  But I somehow managed to hook a piece of squid; I even double-hooked it, as instructed.  I rested my thumb on the reel, to keep the line from tangling, and flipped the switch.  I watched as the line, pulled by a lead weight, sank to the rocks below.  My line slowed, and I cranked on the reel.  It took only moments for a fish to hit my line.I jerked upwards as we had been instructed, and began to reel in my line.  "I think I already have a fish," I said to the captain's mate.  I pulled up a healthy red snapper.  He wrenched the fish off the hook, punched it with an ice pick to decompress it, and was about to throw it back in, when he stopped.
"Do you want a picture with your fish?" he asked.  I looked towards my husband.
"I would," I said, "but I don't think my husband is up to it."
The mate smiled and chucked the fish overboard.   He turned his attention away as a lady down the rail called out, "Fish on."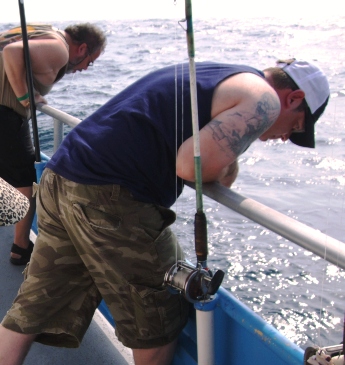 She and I continued to reel in our fish, while our husbands took turns heaving over the rail.  The lady and I looked at each other, nodded towards our husbands, smiled, shook our heads.  "Chumming," she said, as her husband's vomit spewed forth into the depths.  We re-baited our hooks, and lowered our lines.
I caught several fish, and realized I still hadn't gotten a picture.  My husband had stopped barfing for the moment, and he did have his camera, so I suggested he take a shot.  Moments later, struggling to make his way into the cabin, he smashed his $300 lens.  But he did get the shot, which he has titled the, "Insensitive Fisherwoman."  I can't understand why.
SOUTH PADRE ISLAND DEEP SEA FISHING CHARTERS: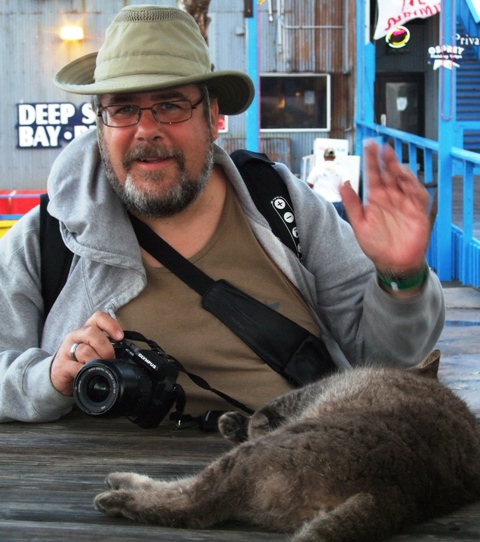 Deep sea fishing off South Padre Island is a popular event.  The charter companies provide all the equipment; they'll teach you how to bait a hook, and how to reel in your catch.  If the fish you catch are out of season, like the red snapper we were catching, the crew will throw them back.  Other fish like triggerfish, sea trout and kingfish can be kept if you have a valid fishing license; the mate will even clean and fillet the fish for you.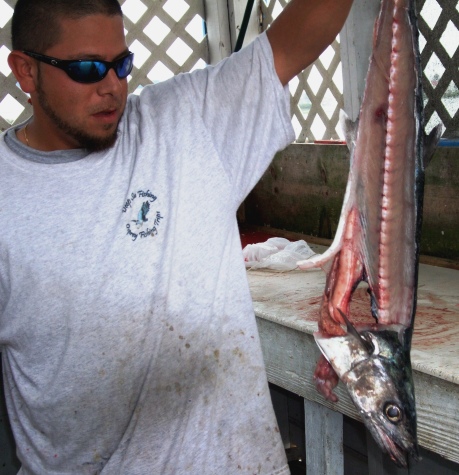 Deep sea fishing is a great idea but it's not for everyone.  Beware of rough seas.  Some of us, even tough guys, can't fight the motion sickness; my husband's first deep sea fishing adventure could only be described as 5 non-stop hours of hell.
Even if you don't get sick to the stomach, be prepared for a variety of small accidents when the seas are violent: hooked fingers, getting smashed in the head with the bathroom door, getting hit in the head with the fishing pole's lead weight, and the formation of huge black bruises on your hip, the spot where you anchored yourself against the boat's railing.
TIPS:
If you are prone to motion sickness, and the fishing boat guy tells you that you might want to consider going out on another day, take his advice.  But if you insist, then prepare in advance for motion sickness; here's a great article on dealing with seasickness.
Cheers,
Sheree Zielke
(You are welcome to comment.  Let me know if my blog has helped you.  Or add a comment if you feel I have missed an important point.  I don't mind correction.  A "dig" on a social networking site would be appreciated, too.  Just use the handy links below.  Subscribe to the Picajet Blog to receive notices of replies to your comments, and new blog postings.)
Tags: deep sea fishing, osprey charters, seasickness cures, south padre island, texas fishing, treatment for seasickness