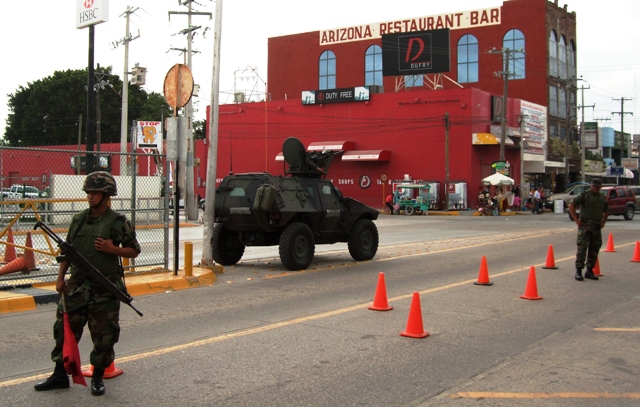 Looking for drugs? Do you need a tooth fixed? Or maybe you just have a yen for a darn good taco.
A visit to Brownsville, Texas is great but you must spend at least one day in a foreign country when in the area. And that's so easy to do, because Mexico is just a short drive, or walk, away.
You can choose from a variety of entry points (International Bridges), but double your fun with a drive up Hwy 281, the "Old Military" highway, and hang a left at Progresso.
Read on . . .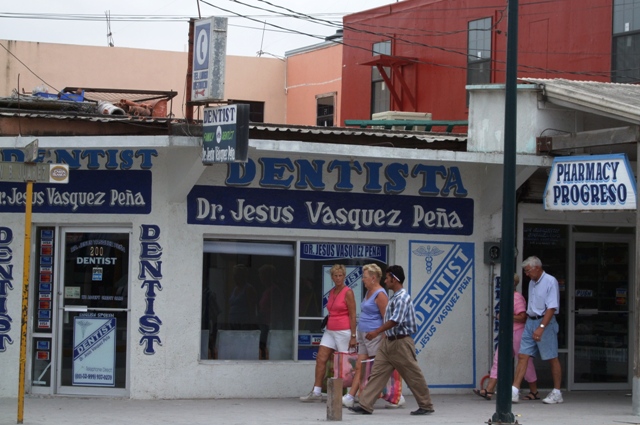 Winter Texans (yes, that's an official term for aging Texans seeking a tropical getaway between November and March) have found a nirvana in Brownsville, Texas. While the city has much to offer, it's got nothing on the price of drugs (prescription drugs — I don't know about the other kind) or the low cost of dental care on the other side of the border. Take a trip into Mexico on any day of the week, and you will see thousands of retirees and other tourists wandering the streets.
You can cross over from downtown Brownsville into Matamoros, Mexico, but Hwy 281 is a picturesque drive, loaded with historical markers, and old cemeteries. The highway kind of parallels the famous Rio Grande River, too. You won't want to try crossing the American/Mexican border at just any point off the highway, however; too many banditos and drug smugglers, according to locals. So, stick to the main border crossings, like Progresso.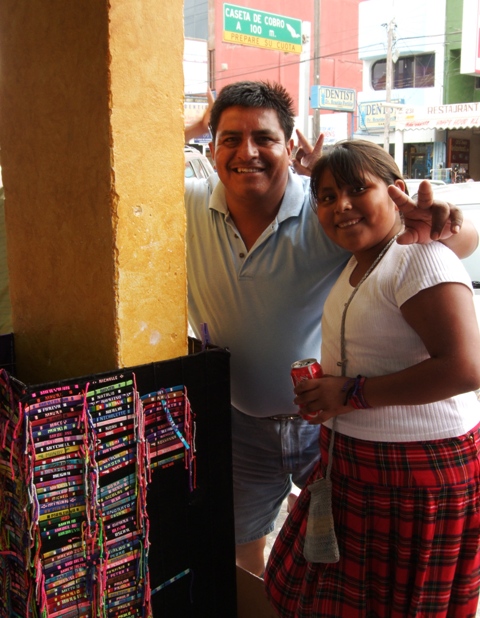 Here's what to expect during a day in Progresso, Mexico:
1. Free parking on the US side of the border – no security guard but there is 24 hours closed circuit surveillance
2. A twenty-five cent admission fee to cross the International Bridge into Mexico
3. A long walk over the Rio Grande River – it looks more like a ditch
4. Beggars calling from beneath the International Bridge
5. Dentists, dentists, and more dentist – you'll see about 50 different dental offices within the first few blocks – offices are pristine, and services are VERY cheap
6. Pharmacies, pharmacies, and more pharmacies – join the rest of the wise foreigners who buy their brand name prescription drugs here – at a fraction of the cost. You'll only be allowed to bring a 90-day supply back over the border, however.
7. Kiosks of endless junk – everything you can imagine
8. "Silver" jewellery and silver jewellery
9. Hand-embroidered bracelets customized with any name – cheap at $3 each
10. Leather belts
11. Taco booths with aggressive taco merchants
12. Great tacos and enchiladas – try Elsa's on Benito Juarez for cheap terrific Mexican food
13. Sidewalk hustlers selling everything they think a gringo will buy: big spinning flowers, wind chimes, Chiclets gum, straw hats, peanuts, wooden toys, woven bags, ropes of garlic, cheeses, car windshield shades, bracelets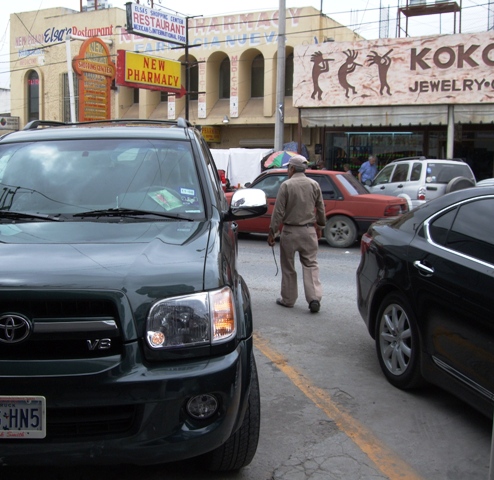 14. Sidewalk beggars (lots of moms with little kids)
15. Cheap margaritas
16. Gross washrooms with potties full of excrement
17. Army guys and at least one anti-personnel vehicle
18. Lots and lots of gringos
19. Pottery
20. Cheap liquor and extremely cheap pure vanilla (a buck a bottle)
21. Bootlegged recent movies
22. Avocadoes
23. Charming (in their ugliness) very cramped side-by-side shacks posing as shops
24. Old traffic guys who help you angle park your car
25. A van with a big pink princess castle piñata stuck in its rear
26. Multiple solicitations for everything from cheap pharmaceutical drugs and dental treatments to manicures and shoe shines
27. Hands of beggar women poking between the bridge frame seeking your loose change
28. Thirty cents admission back into the USA
29. A 75-cent fee per bottle of liquor or wine after passing through USA customs
30. A great time!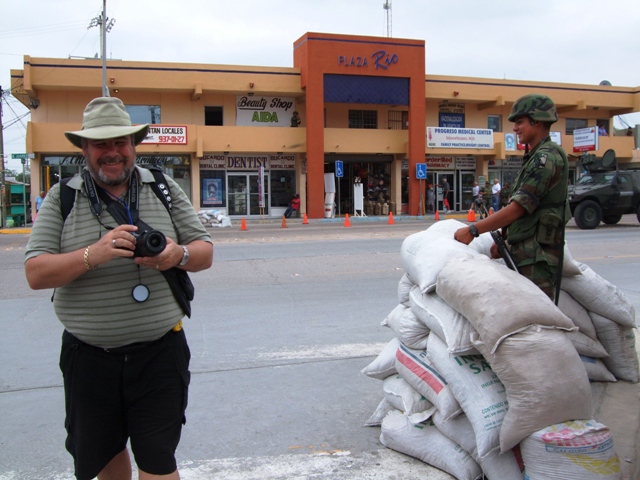 Be smart any time you visit Mexico, no matter where you cross the border. Don't drive your rental car across the border; if you do, you must buy additional insurance when renting the car. Don't take things from strangers — you know what I mean. Do spend a little money to help the local economy. Take your camera. There will be very few places, in the world, where you'll be able to take shots of armed military personnel, without worrying about being shot. Be sure you have all the official travel documents you will need to prove who you are.  Getting into Mexico is one thing; getting back out is quite a different story.
Cheers,
Sheree Zielke
(You are welcome to comment.  Let me know if my blog has helped you.  Or add a comment if you feel I have missed an important point.  I don't mind correction.  A "dig" on a social networking site would be appreciated, too.  Just use the handy links below.  Subscribe to the Picajet Blog to receive notices of replies to your comments, and new blog postings.)
Tags: armed Mexican border crossings, brownsville, cheap dental care over the border, cheap Mexican prescription drugs, crossing the mexican border in brownsville, progresso mexico dentists, staying safe in mexico