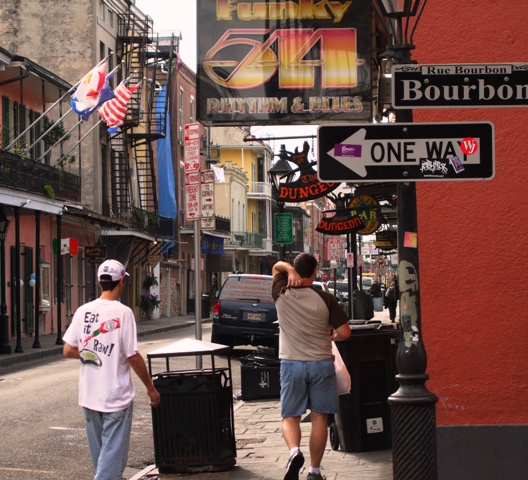 There are some things you must do when visiting New Orleans:  Take a Hurricane Katrina bus tour; eat seafood gumbo from a tiny deli on Royal Street; ride a streetcar to the huge St. Patrick cemeteries at the end of Canal Street; and visit haunted houses in the French Quarter.  Above all, take a walk along Bourbon Street, but do it in the morning.
Bourbon Street is a magnet for the young and lecherous among us, at night, but a morning walk in the bright sunshine, devoid of the nighttime debauchery, can be a truly pleasant experience.  Especially if you are a photographer.
Read on . . .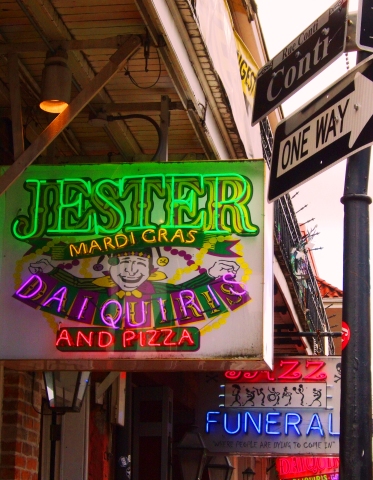 Outside of Mardi Gras season, Bourbon Street in the morning is as different as day is to night.  It's quiet and uncrowded; there are no randy tourists and no wild eighteen-year-old kids partying hard before lunchtime. 
All you'll see are locals busy with the job of cleaning up after the night before.  Some are hosing down the tiny alleyways, near their businesses, that have become choked with garbage; some are washing gunk from walls; some are hawking their breakfast pork chops and French toast; and some are tidying their shops in anticipation of another night of drunken revelers.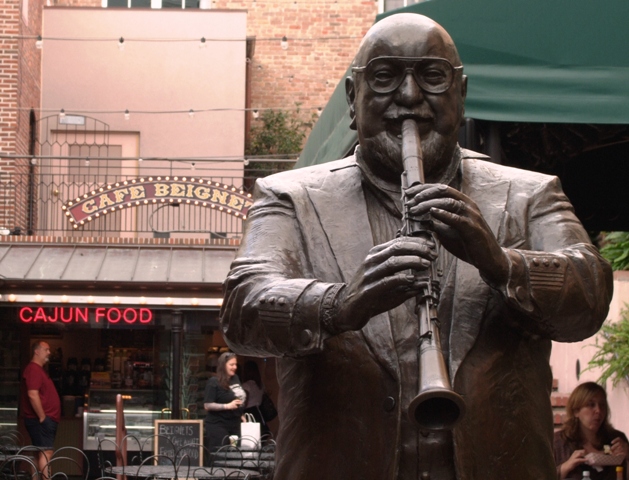 If the skies are overcast, the neon lights make attractive subjects with their brightly colored slogans as they sparkle against the gloom.  A barren street save for the odd bicyclist will make for a great photo, too.  Be sure to pay a visit to the Musical Legends Park to photograph the statues of jazz legends, Al Hirt and Pete Fountain.  The figures make for a great shot against the backdrop of the Café Beignet.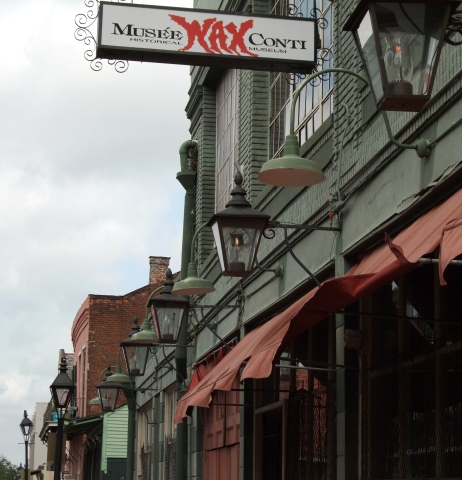 Don't forget to turn your camera towards the other side of Bourbon Street, the side away from the river.  Beautiful old homes and aesthetically curious businesses: bars, restaurants, hotels and a wax museum, crowd the streets.  Grab breakfast from a street side deli; $5 will buy you a whole meal complete with grits and eggs any way you like them.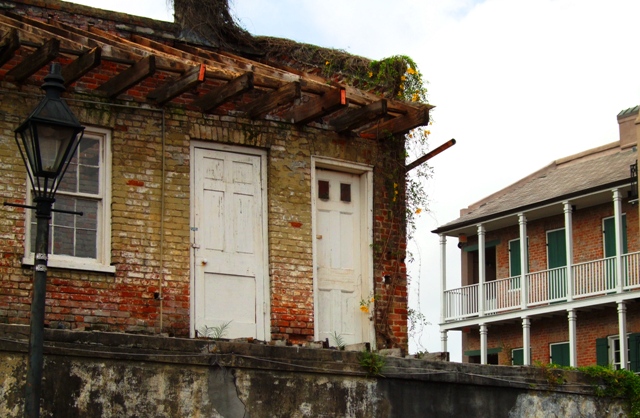 Explore Toulouse Street, too.  You'll find lots of photo opportunities without the complication of crowds messing up a shot.  Be sure to head in the direction of the river, and turn down Royal Street. Walk towards the French Market.  This stretch is filled with antique, jewelry, and art shops; it makes for very intriguing window shopping.
Walking the French Quarter, especially Bourbon Street before lunch, is a great way to spend a morning.  But keep in mind, Bourbon Street is still adult-oriented, regardless of the time of day.  If you plan to take the kids strolling, too, be ready to answer their questions about some of the x-rated pictures you'll pass by.
Cheers,
Sheree Zielke
(You are welcome to comment.  Let me know if my blog has helped you.  Or add a comment if you feel I have missed an important point.  I don't mind correction.  A "dig" on a social networking site would be appreciated, too.  Just use the handy links below.  Subscribe to the Picajet Blog to receive notices of replies to your comments, and new blog postings.)
Tags: avoiding bourbon street, bourbon street, new orleans louisiana, photography, royals street, taking pictures, wax museum, when to visit bourbon street