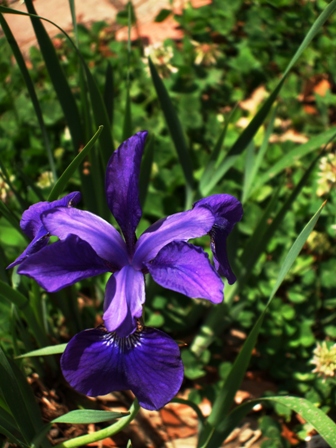 Okay, call me a traitor, call me a fool, call me any name you like but I had to take the chance.  I made a decision, before a recent trip to southern Texas and New Orleans, to leave my heavy Olympus Evolt E-300 DSLR at home.  I replaced it with a sleek little 12-megapixel Fuji FinePix F50 compact digital camera.
My husband looked at me askance as he repeatedly asked me if I still wanted to take my DSLR camera.  I told him, firmly, "No."  That I would take my chances.  And that I would live with my decision.  Only time would tell if I had made a terrible mistake . . .
Before I left for the trip, I tried a couple of point-and-shoots.  I rejected a small Olympus (although I love the brand) because of mid-tone issues.  No matter what adjustments I tried I could not get any outstanding exposures.  I took it back to the store; the clerk up-sold me to the FinePix F50 (it wasn't even on sale).  However, I owned another Fuji digital camera, a pseudo FinePix SLR, and I loved that camera.  So, I felt confident about giving the little burgundy-colored camera a try.  Besides it was pretty, okay?
I purchased an extra battery, a couple of gig xD cards, and a tiny camera case that could hang from my belt.  Already I was giddy with the idea that I wasn't going to be exhausted from toting a heavy camera with heavy lenses around all day long.  (Hey, I am a menopausal 50-something woman who has done my share of toting things, so a break was in order.)  But had I made a mistake?
Ah-hah, I can see your thoughts already.  Boy, is she going to be sorry.  Pffft, what kind of zoom does that piece of junk have?  What if you want to change the aperture or the shutter speed?  What about the white balance? And the ISO?  What about those things?  Well, smarty pants, I can change all those things, and I did.  Repeatedly.  And with unbelievable ease.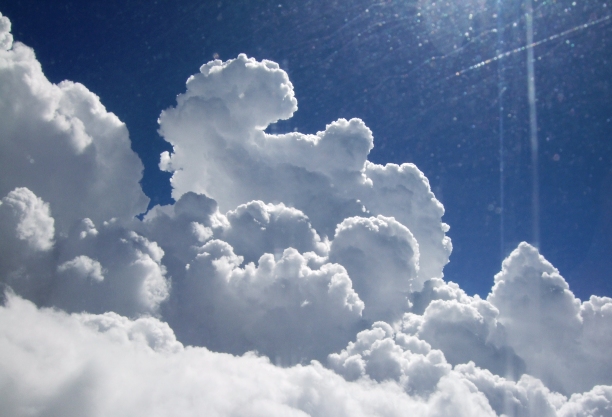 It took me the plane ride to conquer the F50 camera controls.  Here's one of the first pictures I took experimentally through the double-paned airplane window.  See the scratches on the window?  But look at the gorgeous clouds.  The camera didn't shy away from a credible depth of field in spite of the extra "lenses" it was shooting through.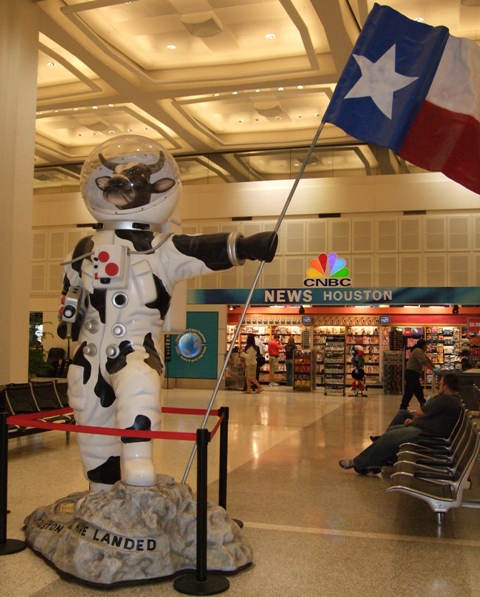 In the Houston airport, as we were rushing for the underground subway, I snapped this shot, but only after I dealt with the airport's difficult lighting.  A few changes to the ISO, the WB, and finally adding flash resulted in this photo.  Other than some minor cropping, the picture is as it was taken.  I did some experimenting with the AUTO fix in my Windows Office Picture Manager, but opted for this unaltered photo instead.
So, what do you think?  Not bad, huh?  I continued to take pictures, everywhere, under every condition.  I flipped through the camera's options faster than a Turkish carpet seller making a pitch.  When I got back to our condo, I fired up the laptop, and downloaded the photos.  I was stunned.  And so was my husband.  The pictures were good.  Some were even better than good.  Some were even great.
True, some  photos still had little mid-tone issues, but those were easily tweaked in Picture Manager.  But look at the first macro shot of my husband's hand and wedding ring.  I am content.  The purple Iris at the top of this entry was also shot with the Fuji F50.
Yes, of course, the tiny Fuji F50 has only a 3X optical zoom.  That goes almost without saying.  But the trade-off of leaving behind a big, bulky, expensive-looking camera for a tiny compact camera that is a breeze to carry around, and is even easier to use – well, there is no contest.
Here is a shot of the Brownsville Museum.  The day was somewhat overcast, so I messed with the mid-tones and opted for a little brightening.  But the result is not much of an improvement over the original picture.
I have four more working holidays in the next five months, and you can bet my little Fuji will be with me.  Even my husband who is dedicated to his Olympus EVOLT E-500 has given the idea of using a tiny compact  digital camera while traveling more than a second thought.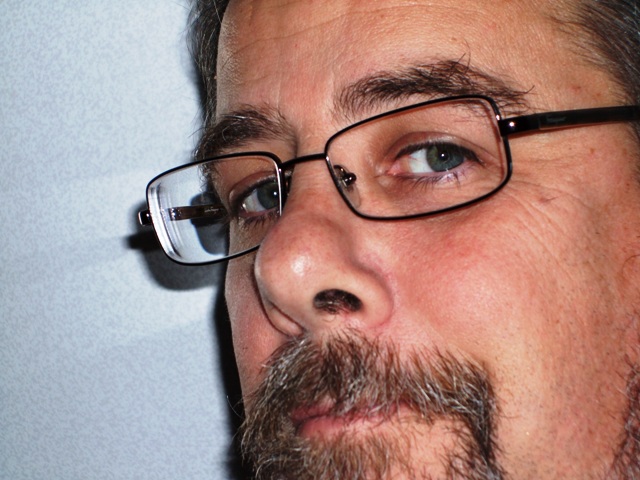 And that's saying a lot.  Here's a shot of him – it's one of the first pics I took with the Fuji.  Looks good to me.  But then maybe it's just the subject matter.
The downsides of the FinePix F50 (if they can be considered downsides): no histogram, only a 3X zoom, AUTO okay, but you must use control features for better shots, easily dropped without cord on wrist, and the usual small camera digital lag.
The upsides are many:  very light to carry, easy-to-locate controls, larger bright LCD, menus easily traversed with selector button and function or menu buttons, easy to learn, takes great shots even against strong backlighting, great macros, good human flesh tones, very little wait time once turned on, and very convenient.
P.S.  Check out my recent Civil War cemetery, Nicholas Cage New Orleans haunted house, Little Graceland, and travel planning blog entries — ALL photos were taken with my adorable new Fuji F50.
(You are welcome to comment.  Let me know if my blog has helped you.  Or add a comment if you feel I have missed an important point.  I don't mind correction.  A "dig" on a social networking site would be appreciated, too.  Just use the handy links below.  Subscribe to the Picajet Blog to receive notices of replies to your comments, and new blog postings.)
Tags: choosing a camera that's easy to carry, choosing a small compact digital camera instead of an S, f50, fuji finepix, good 12 megapixel digital compant cameras, olympus evolt, small digital cameras, travel photography