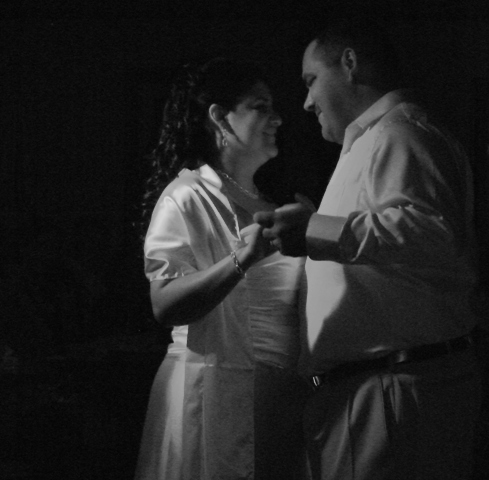 Who are these people? We didn't know them either, that is until we attended their wedding, uninvited. But you haven't lived until you've crashed a Mexican wedding.
My husband and I don't normally go uninvited to the wedding of strangers, but cheap happy hour drinks, great Mexican food, and authentic Mariachi music were too attractive to resist. An evening out at a local Mexican restaurant sounded like a great idea. We weren't planning on the wedding.
Read on . . .
We were visiting Brownsville, Texas recently. New friends we had met there suggested we join them for drinks at a little roadside restaurant. Cheap happy hour margaritas, they said, and a great mariachi band. It sounded good to us, so we went.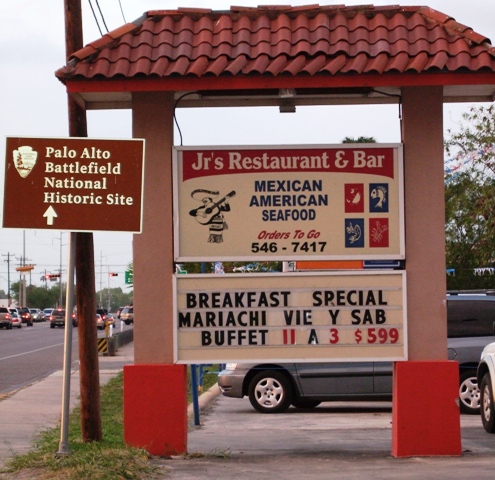 Jr's Restaurant and Bar was a little out of the way, but it was easy to find. We found it just north of Hwy 802 on Paredes Line Rd at Rancho Viejo. A directional sign for the Palo Alto Battlefield sits on the restaurant's parking lot. We weren't sure we were at the right place, but we parked the car. I took a few shots outside, while my husband was given the task of finding our friends. He came right back out to the car.
"I thought I was in the wrong place," he said. "I walked in and there's this bride and groom. I thought I'd walked in on a private reception." However, once back inside, our friends waved us over to their table. We no sooner settled in, got our very cheap margaritas and placed our orders, when a Spanish-speaking man called the bride and groom to the center of the dance floor. My chair wasn't more than 2 feet from the special pair. Was this for real?
Yes, a marriage took place, and we looked on as though we were part of the family. We couldn't understand a word the man was saying (he was speaking Spanish), but we got the gist of his message just fine. There was no telling where the real wedding guests ended and the rest of the restaurant clientele began. But it didn't seem to matter. We all joined in applauding the new couple.
Jr's Restaurant, besides providing surprise weddings, offers a down-home Mexican menu, complete with Tres Leches (3 milk) cake — a soggy cake that will make you a die-hard fan with the first mouthful. The restaurant is completely without pretense with its vinyl-covered chairs and faux woodgrain tabletops. Plastic flowers stuck informally in small glass vases complete the ambience.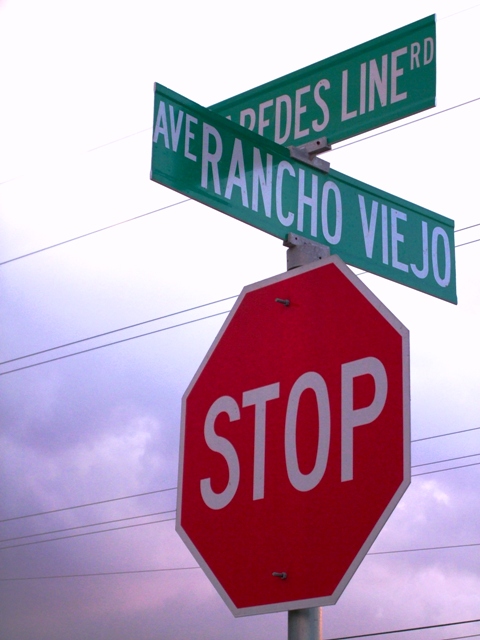 Mexicans, at least those in tiny roadside restaurants in Brownsville, Texas, have it right. The world needs more laid-back places like these. Happy Hour runs 7-8 P.M. during which time margaritas are $1.50 apiece. Food is plentiful and reasonably priced averaging $7.99 per entrée. Following dinner, an eight-piece mariachi band might march in, resplendently dressed in the typical black and white mariachi garb, accented in silver studs.
When in the Brownsville area, make an effort to eat at least one dinner at Jr's Restaurant. Crashing a Mexican wedding while visiting this south Texas destination can be the perfect way to end a Texas holiday.
Cheers,
Sheree Zielke

(You are welcome to comment.  Let me know if my blog has helped you.  Or add a comment if you feel I have missed an important point.  I don't mind correction.  A "dig" on a social networking site would be appreciated, too.  Just use the handy links below.  Subscribe to the Picajet Blog to receive notices of replies to your comments, and new blog postings.)
Tags: brownsville, crashing weddings, jr restaurant and bar, mariachi bands, mexican weddings, southern texas tropical destinations, things to do in brownsville