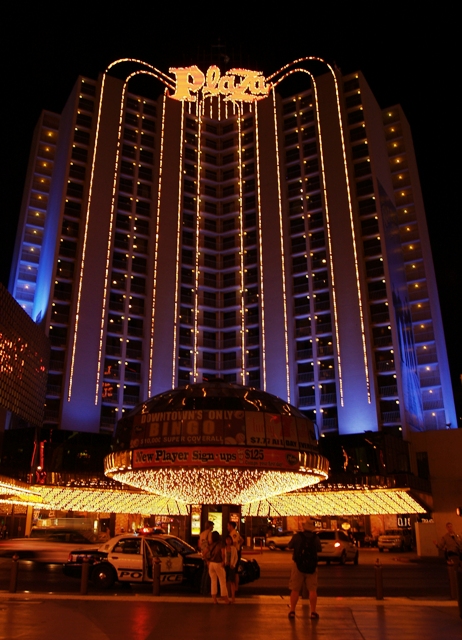 My husband and I celebrated our 21st wedding anniversary yesterday.  Our formal plans had us dining at a very cool eatery called "The Bootlegger Italian Bistro,"  in South Las Vegas. We had eaten there when we first arrived in Vegas and thought it would be a nice place, with its classic old gangster ambience, to have our anniversary dinner.
But our plans changed.  Vegas has a way of doing that to plans.  So, we cancelled our reservations in favor of another place.  And we are so glad we did.  We had one of our best times yet in Las Vegas.
Read on . . .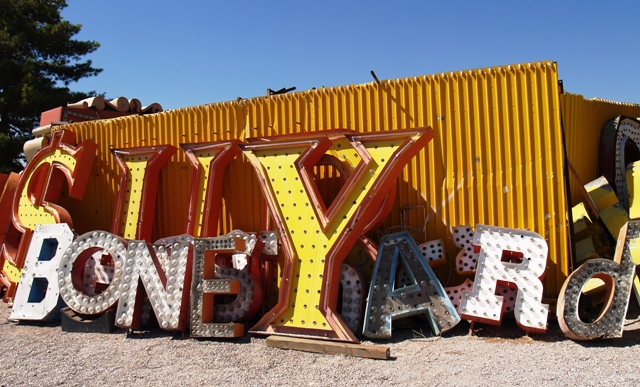 We started our day on a formal tour exploring Las Vegas's "Boneyard," a storage yard in North Vegas, where the Neon Museum (started in 1996) has been collecting giant old neon signs, signs that will be refurbished someday and then re-displayed.  We had a terrific time photographing the gorgeous hunks of rusted metal in nearly 100 degree heat (more on that in a later blog).
The Boneyard is located just a few minutes from downtown Vegas, and since we hadn't spent a lot of time exploring the area, we decided to stay downtown, for a while, or so we thought, because "a while" turned into many hours.
Downtown Las Vegas is not as big a draw for tourists as the Strip, but it should be especially in "light" (pardon the pun) of all the work done to restore the area and its quaint vintage neon signs.
We drove to the Plaza Hotel, parked our car for free in a covered parking lot (important in the blazing heat of a Las Vegas day), and then proceeded to explore the Fremont Street area.  What an amazing place!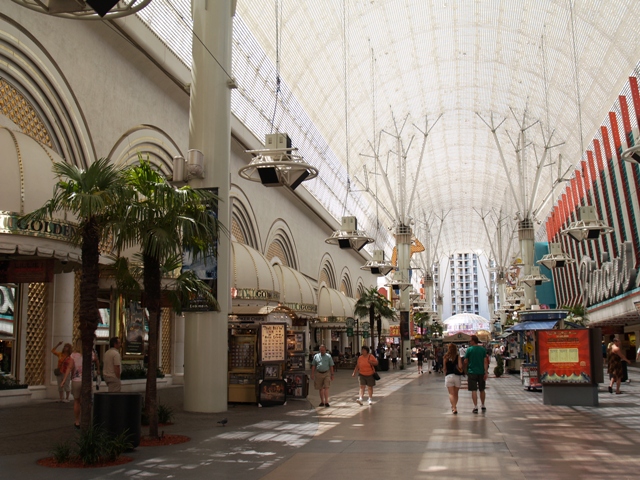 We wandered into the older hotels like the Four Queens, Binions, Fitzgerald, and  the Fremont.  On a whim, we decided to join all the different Players Clubs; we got some free gifts and even if we don't come downtown again, the Player's Club cards make for nice mementos of our anniversary.
But what started out as a plan to spend only a couple of hours exploring downtown Vegas ended up being nearly a 12-hour visit.  We had no idea there was so much to see in downtown Vegas, especially since we were hot to photograph old neon signs.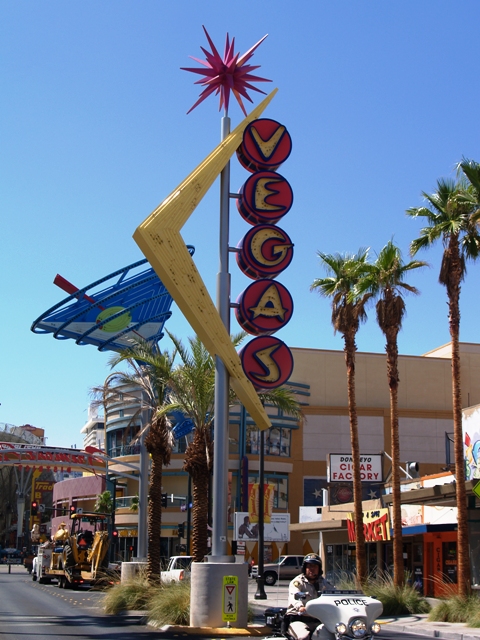 Plenty of police officers and security guards are everywhere.  Just obey them and you will be perfectly safe walking around in this area.  Above are two examples of restored neon signs.  Wait till you see them at night.
The Neon Museum has restored and erected several vintage signs; they are so beautiful that it's hard to believe they were ever torn down.  And that's just in the daylight.  Nighttime brings a whole new experience with it because then, of course, all the signs are lit up in glorious blazing color.  Wait till you see the spinning Ruby Slipper. What a treat!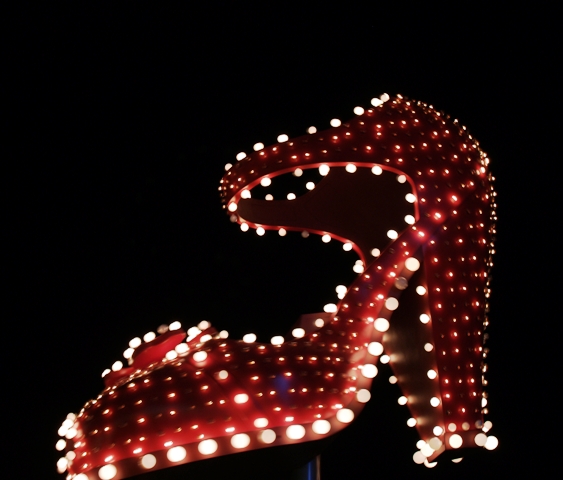 If you haven't spent at least a few hours in downtown Las Vegas, especially at night, then you are missing out on Vegas, the authentic Vegas.  We got some of our best photographs, we had a great inexpensive meal at the Paradise Buffet in the Fremont Hotel (for $10 each), and we got to see the "Fremont Street Experience."  That is really something.
At 8:30 PM, and then at the top of every hour, including midnight, the rooftop (a wire mesh enclosure of several blocks of Fremont Street) bursts into light and sound.  The ceiling becomes a huge video screen and giant speakers blare out classic old rock tunes from bands like Queen and the Archies.  It lasts about five minutes, but every head turns up to catch the show.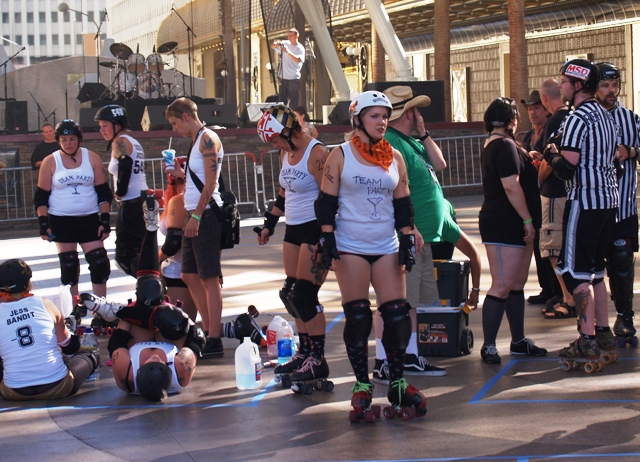 In addition, you never know what other entertainment you'll find on Freemont Street.  We ran into a convention of roller derby athletes; they laid down a track right in the middle of the street and proceeded to have a competition, much to the amusement of the hundreds that sat down on the pavement to watch.  What fun!
When visiting Vegas, do be sure to spend at least one afternoon and one evening in downtown Vegas.  Bring your camera; you'll want to snap some shots both in the daylight and when the place is all lit up.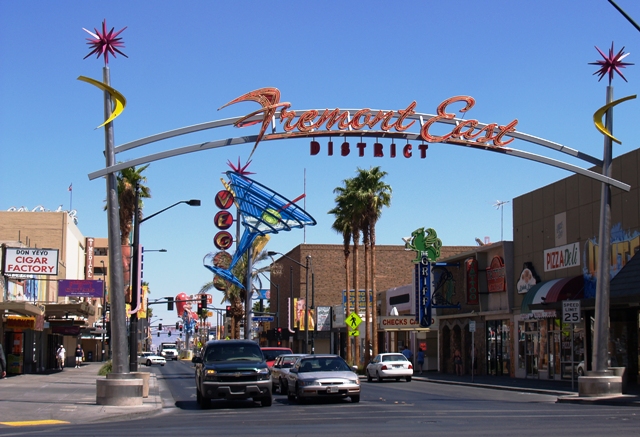 Wander down the street towards the seedier area of town (Freemont East); security guards will advise you (firmly) not to go too far because as one cop put it, "It may be pretty here, but it's not so pretty farther down."  But still, you'll get to see so much in spite of having your path blocked.
In addition, I don't know whether it was our attitude, or that we were blessed because we were celebrating our wedding anniversary, or because it was just our lucky day, but we found the slot machines in downtown Vegas were much friendlier than the machines on the strip.  In fact, we walked away with more money than we put into the machines after hitting small progressives.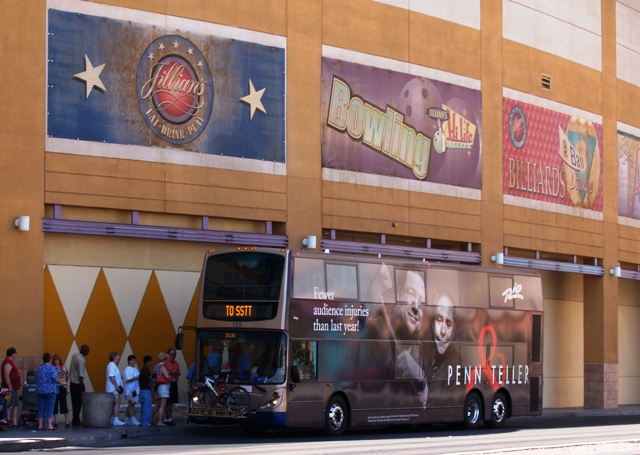 There's really no excuse not to visit downtown Vegas even if you are staying on the Strip, and you don't have a car; you can ride the double-decker Deuce.  But be warned; you should leave Fremont a little earlier in the evening or you will find yourself fighting for a spot on board with hundreds of other tourists trying to do the same thing.  Huge line-ups for the Deuce formed after 10:30 PM.
Downtown Las Vegas – it's a good thing as Martha Stewart would say.  I say, "It's not to be missed."
Wishing you safe and happy travels,
Sheree Zielke
PS I submitted the very top Plaza photo to a contest.  Check it out if you'd like to vote.
Tags: downtown las vegas, fremont street experience, las vegas nevada, neon museum in las vegas, old hotels in las vegas, old Vegas, roller derby, the boneyard, vintage neon signs, where to photograph neon signs