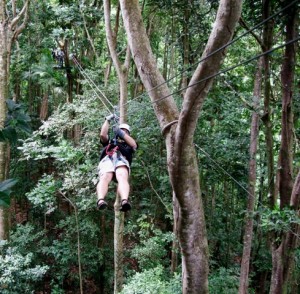 Do your knees quake at the thought of swinging across the jungle canopy suspended from a steel thread?  If so, zip-lining may not be for you.  But if you are into a fun exhilarating adventure, then be sure to book a zip-lining adventure in a place like Belize or St. Lucia.  But take some precautions first.
Are you afraid of heights?  Me, too.  But oddly enough, because I was so securely strapped into the harness, the only time I was ever afraid, or experienced any time of vertigo, was when I was clambering up the box where I would be attached to the steel cable.
Are you afraid that you might fall while waiting to take your turn?  The guides are very diligent about this. Any time you are not zipping, you are safely tethered to a thick strap.  You can't fall off the tree stand.
Are you afraid that zipping might be hard on your heart.  Maybe, so.  If you are easily over-excited, or easily agitated, then maybe zip-lining isn't for you.  But a feeling of exhilaration is natural, and is to be expected.
Are you worried about taking your camera with you?  You can take your camera.  Wear the handstrap on your pocket camera, or SECURE it into a shirt pocket when not in use.  It might pop out of your pants' pocket.  Don't wear it around your neck.  Bad idea.
What about your purse, your backpack, your money pouch?  I have lived to tell the tale that if you want to safely ride a zip-line, you must NOT wear anything around your neck.  I had the rope burn on my neck to prove that.I was wearing a leather bag, hanging from a fairly thick leather strap; the bag was carrying my credit cards, my passport, all those things I couldn't live without were I to lose them. As I stepped out into space, I felt this mighty tug on my neck, resistance, a sharp sting, and then I was free.  My small leather purse had gotten entangled in the guide's gear.  As I stepped away, I was nearly choked.  Luckily, the strap tore into two pieces and I was free to zip.

The message:  Do NOT wear anything around your neck when zipping.  You might not be as lucky as I was and have the strap tear in half.  My purse ended up on the forest floor, many feet below.

Are you afraid that the trek into the jungle might be too much?  In St. Lucia, after we were strapped into our gear, given helmets, and gloves, we took a leisurely ride up to the zip-lining stations.  We walked a short distance back down to the first station, zip through 10 stations, and then spent about 20 minutes walking back up to the tram.  That upward walk might be cause for pause.  It was a little strenuous.
Would I go zip-lining again?  In a heartbeat.  Would my husband?  Not in this lifetime.
Here's his take on the same experience.  Quite funny.
http://photoshopbasicsin6hours.blogspot.com/2009/01/travel-blog-9-terror-in-st-lucia.html
Tips:  If you insist on carrying your camera loosely, be sure nothing can fall off like sunshades or lens caps, and the like.  My Fuji F50's sunshade is still lying on the jungle floor.  Luckily, one of the guides ran back up the line later and retrieved my purse.
Tip:  Call in advance.  The zip-lines are not always running.  We arrived by cab and had to wait for a large group from a ship.  We were added to their group.  Twosomes are not taken up the zip-line.
Tip:  Be sure to carry a little extra cash.  You'll want to tip the guides.  They are terrific.  They are fun-loving, friendly, and they do watch out for you.  They are encouraging, and a bit like monkeys in their antics when they are showing off.   Besides, if you don't take my advice, and you lose something while zip-lining, you will want to tip the guide who runs and fetches it for you.
Wishing you safe and happy travels,
Sheree Zielke
Tags: Belize, dangers of ziplining, is zip-lining dangerous, st. lucia, zip-lining accidents, zip-lining in the rain forest, zipping through the jungle