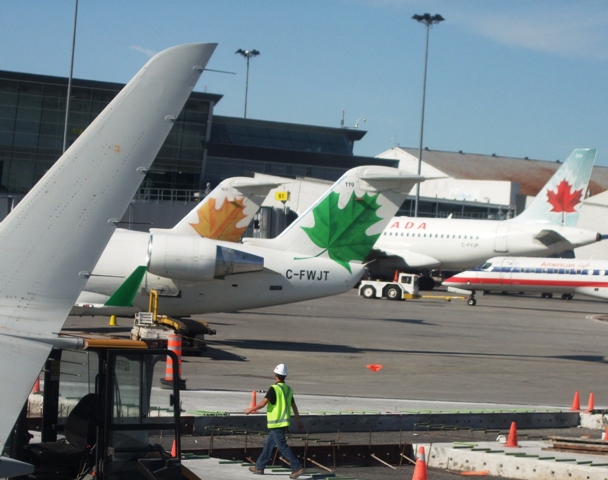 There I sat, minding my own business, reading my book when the most amazing thing happened.  I gasped and shrieked as a storm erupted from the ceiling above my head.  Tiny ice pellets fell all over me.  What was this?  I was stunned because I was sitting in the middle of a sleet storm while ON BOARD an Air Canada plane.
I felt it was worth mentioning to Air Canada's customer service.  How did I do it?  Did I get any reaction?  What I did may be of help to you in your next encounter with Air Canada customer service following a less than exemplary Air Canada flight.  Read on . . .
The flight attendant noticed the snowstorm.  She indicated I could move into another seat.  I switched seats a couple of times (luckily the plane wasn't full) because two window seats resulted in the same snowstorm.  I finally settled into an aisle seat; there was still ice falling from the ceiling but not on my head.
The flight attendant shrugged her shoulders and said something about condensation and the high temperatures outside.  I just nodded dumbly — never in hundreds and hundreds of flights had I ever seen ice pellets fall from a plane's ceiling.  Especially in such abundance.
I took notes with the intention of contacting the Air Canada customer service department when I got home.
Once home, I went to the Air Canada web site.  I found the customer service email link, drafted my complaint, noted the advisory that I might be waiting for 6 weeks or so for an answer, and turned my attention to other things, believing that my complaint would draw very little attention, and even less of a response.
I was wrong.
It took Air Canada's customer service department a single day to contact me.  The reply was courteous, explanatory, and it included compensation for my discomfort.
Here is part of the letter I received:
"We do appreciate your patronage and apologize for the inconvenience that you have described. Please be assured that moisture in the cabin is no cause for alarm. Quite simply, condensation in the cabin of the aircraft is caused when flying through heavy rains or dense clouds. The air conditioning system of the aircraft takes time to adjust to the increase in moisture and condensation forms inside the cabin. For your information the matter of water condensation is one that occurs in all modern passenger aircraft.

As a tangible gesture of goodwill, we are pleased to enclose a $100.00CAD future travel credit. This transferable credit may be used toward the purchase of future travel on Air Canada and/or Air Canada Jazz and is valid until one year from today. This means that it must be applied to a new ticket purchased within that time frame, however, travel does not have to commence within the year."
I feel Air Canada handled the situation well and fairly.  And I believe I received a prompt and satisfactory response because I kept my cool.  My letter was to the point, and it was devoid of anger.  I clearly stated the problem and I ASKED for compensation.  I made no demands.
Here is my letter:
"Dear Air Canada,I have been on your planes while IN a snowstorm, but I have never been IN a snowstorm ON your planes before.  That is until today.Let me explain.I was seated in the window seat (26A), when I felt cold drips  – not water – but small pieces of ice.  One of the flight attendants noticed my discomfort and, since the plane wasn't full, she allowed me to cross the aisle and sit in the other window seat. I was belted in and reading a book, when I gasped as a veritable snowstorm rained down on me from above.  Thousands of tiny ice pellets – sleet – rained down from the ceiling.By this time, the flight attendant had seen the snow showers come from both window locations, and told me I could pick another seat.  I chose an aisle seat.  The snowstorms continued, but not over top of me.

What if the plane had been full?

I was concerned as to what was falling and melting on me?  Plain water?  Antifreeze?  Another type of chemical?

This is not what I expect from an Air Canada flight.  Any recompense would be appreciated."
If you have issues with Air Canada or any airline, send your complaint to the correct department.  Be concise, and non-demanding.  I promise you that your letter will stand out from the majority and you will get results faster than those who complain angrily and in a demanding way.
Here are two other sites that deal with Air Canada complaints, but they appear to be places to vent as opposed to places that will net you any kind of compensation: Airline Complaints and My 3 Cents.
Have you had good results when complaining to Air Canada?  How about when complaining to another airline?  Or did your complaint fall on deaf ears?  Share your story here.
Wishing you safe and happy travels,
Sheree Zielke
Tags: air canada complaints, air canada customer service, how to complain about a bad flight