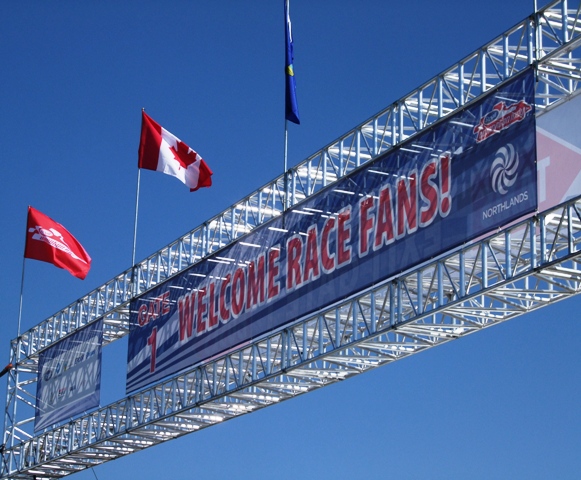 It's all over for another year in Edmonton, Alberta, Canada.  The race has been run – the IndyCar race, that is, since Champ Car merged with the Indy League earlier this year.  It was the debut IRL race for Edmonton, and by all accounts, it was a success.  Especially for at least one driver.
The big winner?  Scott Dixon, of New Zealand (It was Scott Dixon's 5th win for 2008.)  He was followed by "Dancing With the Stars" champ, Helio Castroneves, then Justin Wilson, and finally, Canadian Champ Car driver, Paul Tracy, who had fought his way up from  his 16th  starting position.
Read on . . .
Winner, Scott Dixon, who hails from Auckland, New Zealand, is one of the youngest racers and winners in the sport; he won his first open-wheel competition when he was only 13 years old.
But back to the Rexall Edmonton IndyCar.  If you missed it, you missed a great weekend.  The weather remained bright, sunny and hot and the atmosphere at the Municipal Airport grounds was electric.  The 27 cars roared round the track to the delight of about 50,000 IndyCar fans who braved the heat to watch an exciting race filled with crashes and postion changes.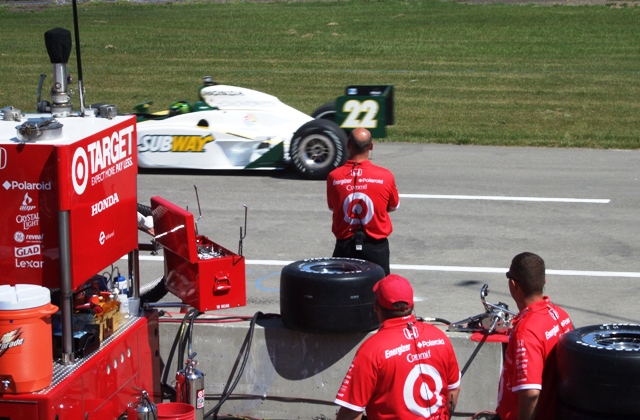 Above, Paul Tracy, in the Subway car, zips by the pit on Thursday's rounds.
I volunteered this year, in the Credentials center, so I didn't get out and about as much as I normally would, but I did manage to catch Paul Tracy as he made his way into the pits on Friday morning.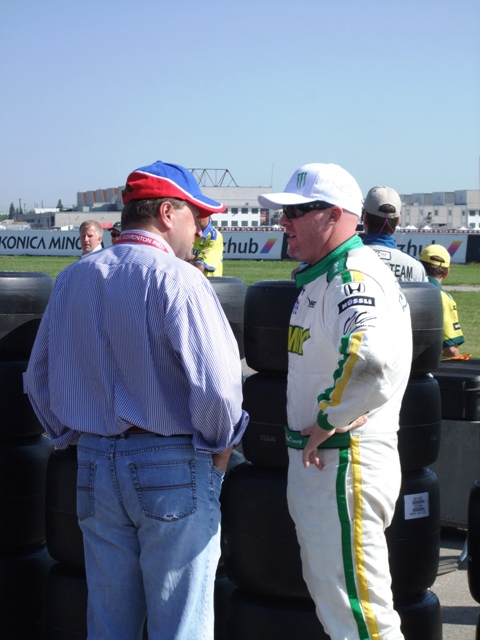 Tracy was looking fit and chipper; his bravado managed to pull him into fourth place in his first IRL race.  Good going, Paul.  Many fans were very pleased to see the scrapper back on the track.
KISS star, Gene Simmons, was the race's Grand Marshall.  Apparently, the aging rocker is a huge IndyCar fan who says actual racing is not for him; he prefers to drive much slower.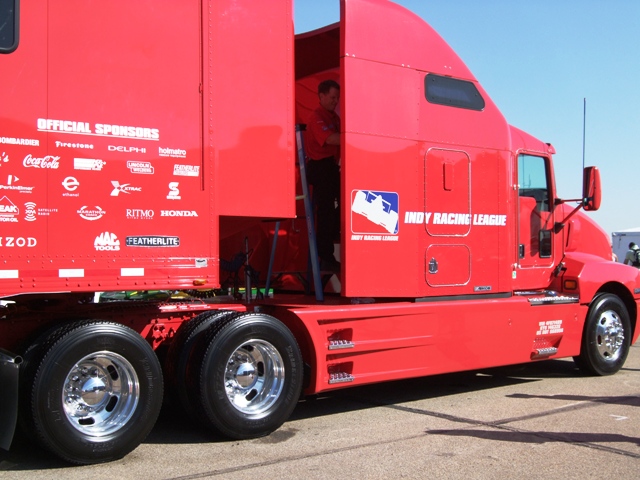 Racing fans are being encouraged to sign up now for next year's IndyCar in Edmonton.  Even if you aren't a racing fan, it's just a great weekend with lots to do and to see.  There is a motorcross exhibition with suicide drivers, the military pulls in a few tanks, sponsors have their tents filled with a variety of activities, and free give-aways like the handy "carry-your-junk-that-you-pick-up-for-free" bags from Driving Force.
And you can't beat the excitement of walking around the paddock, or walking behind all the pit action with a pit walk-thru pass.  Those two items are worth a few extra bucks.  You never know who you will bump into as you meander through the alleyway of hot metal.  Danica Patrick created quite a stir when she was getting ready for her run.  You can get pretty good shots from behind the pit row fence, too.
And speaking of taking photographs, there are a couple of really good spots where you can get a good view of the cars through a gate, instead of through two layers of fence wire.  Try shooting through the gates of the emergency access roads – there's one to the left of Grandstand D, and there's an even better spot farther down, towards the Yellowhead Highway, where the track turns to the right.  Great photo ops.
What were your adventures at the Rexall Edmonton IndyCar race?  Or any IndyCar race, for that matter.  Why are you a fan?  What keeps bringing you back? Who is your favorite driver?  Do you think Danica Patrick gets far too much attention?
Read more on Scott Dixon's win by the Canadian Press.
Wishing you safe and happy travels,
Sheree Zielke
Tags: danica patrick edmonton, edmonton alberta indycar race, Gene Simmons, paul tracy indycar edmonton, rexall edmonton indycar 2008, scott dixon fifth win 2008, who won the Edmonton IndyCar race