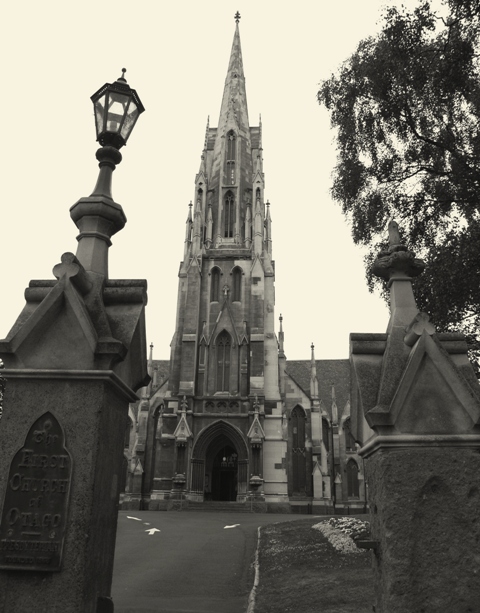 I was feeling a tad envious as I watched other passengers board the charming Taieri Gorge vintage train.  They didn't even have to drive into Dunedin because the train pulled up alongside our Celebrity ship.
However, had I known how wonderful a day in Dunedin, New Zealand was going to be, I would have merrily waved them on their way, without a second thought.
I found out later those folks didn't get much of a chance to explore Dunedin (Celtic for Edinburgh) and that would have meant missing so much.
Read on . . . 
Cruise ships don't actually dock in Dunedin (that's DUN-eden, as in Garden of. . .); they dock in Port Chalmers.  That means taking a shuttle into town.  But not before all your bags are sniffed by a cute little beagle wearing a doggie security uniform (according to his handler, he sits down as soon as he smells food or fruit in a passenger's hand luggage). No ship food is allowed onto New Zealand soil.
Shuttle bus fees are reasonably priced at only $10 US per person; some ship passengers complain about the price, but I suspect they are missing the point: the shuttles are convenient.
If you are planning to a trip into Dunedin, New Zealand, here's how we spent a day in this fascinating Scottish city: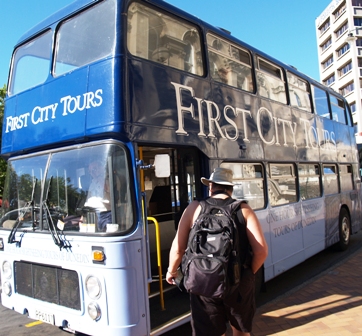 8:30 – After a pleasant 15-minute ride into Dunedin (it's located at the head of the Otago Harbour), we were dropped in the city's town center, or rather, it's "Octagon."  The visitor information center is right there, and it was open even though we had arrived before 9 AM.
9:00 – We decided to get a quick overview of the city, so we booked a tour on a double-decker bus.  It was only $20 NZ per person and it covered all the most interesting areas, including a quick stop at Baldwin Street, the "World's Steepest Street," and the handsome old Dunedin Railway Station, on Anzac Avenue.
10:00 – We stop in a small crafts market in the Octagon and bought candy we're never seen before: it's chocolate wrapped in soft black licorice.  The bag is emptied before we walk a hundred yards, and we return for another bag.  It's so good, and it's only $2.50 NZ a bag.
Up Stuart street (we are heading towards Dunedin's famous train station), we stop for a "Flat White" coffee – we've learned to love this creamy java treat.
11:00 – We see the train station ahead but, since this is Saturday, we veer left towards an area bustling with shoppers: the Otago Farmers Market.  What a treat!  Fresh cheeses, handmade soaps, beer, and baked goods. Lots of free samples, too, including the cheeses and the beers. We buy a bottle of Black Ridge white wine made by the world's southernmost winery.
Noon – We head back to the Dunedin Railway Station (New Zealand's "most photographed building," according to the tourist brochures).  It's fun to explore this heritage building with its art deco interior.  The New Zealand Sports Hall of Fame is here, too.
The outside platform feels historic; it's here we chat with a young man sitting near a huge backpack, nearly as large as himself.  We ask where he's headed. He shakes his head.  "I don't know," he answers, "I'm just going."  I smile, and nod, because I remember those days.
1:00 – We head back up Stuart Street and stop in the Law Courts Hotel Pub, the "Wig 'n Pen."  You have to stop at a pub with a name like that.  I have a pale ale; my husband has a Gold Medal.  Both are Speight's (pronounced as spates) ales, made here in Dunedin.  Both are very tasty.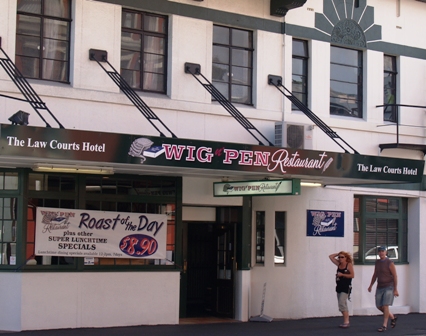 We wander up the hill to a gothic cathedral that had earlier caught our eye: it's the (Protestant) First Church of Otago on Moray Place.  Designed by architect, R. A. Lawson, and opened in 1873, this handsome church keeps us snapping photos for over an hour.
2:30 – We're not big gamblers but we like casinos, and Dunedin has one, so off we go.  The machines are strange but they pay out nicely.  We realize we are hungry, and that we haven't checked our email.  So, we hunt for food and an Internet café, and find both nearby.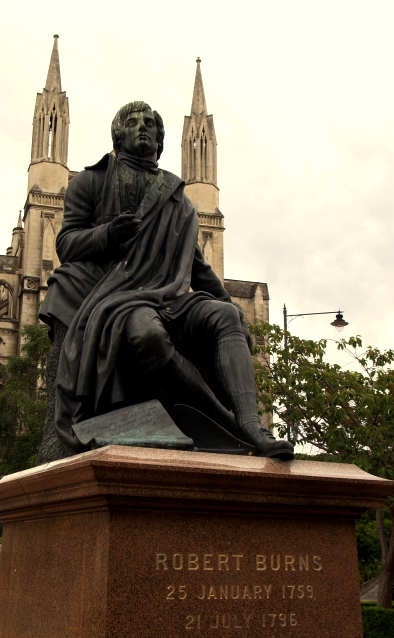 4:00 – Our time is running short, so we make our way back up a very steep hill towards the Octagon.  While waiting for the shuttle bus, we take turns photographing a large statue of the Scottish poet, Robert Burns.
Our day in Dunedin, New Zealand was the perfect day of exploration, and that didn't even include: Glow Worms tours; Elm Wildlife tours; the Royal Albatross Centre; a tour of Lanarch Castle; the Otago Settlers Museum; Dunedin's ghost walk – the Hair Raiser tour; a tour of the old Speight's Brewery (although we did walk by it); a tour of Cadbury World (we saw the building); or a ride on "One of the world's greatest train trips," the Taieri Gorge Railway.
We'll do all that, next time.
Cheers,
Sheree Zielke
(You are welcome to comment.  Let me know if my blog has helped you.  Or add a comment if you feel I have missed an important point.  I don't mind correction.  A "dig" on a social networking site would be appreciated, too.  Just use the handy links below.  Subscribe to the Picajet Blog to receive notices of replies to your comments, and new blog postings.)
Tags: architect R A lawson, baldwin street, cadbury world, dunedin casino, dunedin new zealand, dunedin octagon, dunedin train station, first church of otago, new zealand ports of call, otago farmers market, otago harbour, speights brewery, steepest street in the world, taieri gorge railway