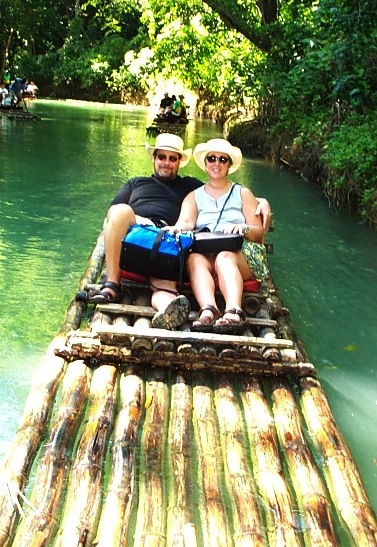 If you are pining for a well-deserved vacation, an escape from the drone of the business world, you might be tempted by an "all-inclusive" vacation.  But think very carefully before you don that thong bikini or those Speedo trunks.  All-inclusive vacations are not for everyone.
Read on . . .
It didn't take long for the resort's corny games to wear thin; we'd taken all the lessons, and the lush grounds of our tropical paradise had been explored – umpteen times.
The verdict was in: We were officially bored.
It was our first real getaway, our first tropical escape, our first all-inclusive resort.  The travel agent sold the package to us with confidence.  She told us about the food, the private beach, the palm trees, the gardens, the water sports, and the devastating beauty of the place.  And she was right, all except for one thing; she never mentioned how bored we'd get in just a few days.
Sandals, in Ocho Rios, Jamaica, was everything the travel agent had said it would be; there was nothing wrong with the product; we were just the wrong buyers.  Within a few days, we were clawing at the walls of our sweet-smelling velvet prison.  We had done it all from learning to sail and to scuba dive, we'd feasted on great food, and we had sunned ourselves silly.  But it wasn't enough.
We knew there was a whole world outside the resort gates; we had seen it on the bus ride from Montego Bay.  But we had also been advised from venturing too far afield; we decided to go against the advice.  From then on, we had our own agenda and that included exploring the island of Jamaica.
Are you an adventurer?  Then steer clear of all-inclusive vacations; they are very much like a cruise ship on land, with one exception: you dock in only one port.  The scenery gets tiresome after awhile.
However, if you do get stuck in a velvet prison, do a little research, and strike out on your own.  It'll cost you a few dollars in rental cars, cab fares, bus fares, and other types of transportation, but you won't arrive back from your vacation feeling cheated.
In Jamaica, we found a ton of things to do:  A ride on a 30-foot bamboo raft on the Martha Brae river was fun; hiking up Dunn's River Falls was a hoot, too; taxiing around the island, including a visit to crime-ridden, Kingston, was quite an education. (It's wise to stick with a cab driver when adventuring here because of what he referred to as, "idle boys."  Our cabbie wouldn't let us put our windows down because of a high occurrence of theft from vehicles stuck in traffic jams.); a drive in the area of Port Antonio will take you to some quaint seaside scenery and a pretty old church: the Anglican Christ Church built in 1840.
We felt very safe in the Ocho Rios area, and we would regularly walk into town.  It was always fun to pass by the maze of craft booths (a kind of farmer's market) on the way.  Beware: if you start at one booth, you will soon find yourself led deeper and deeper inside as one merchant takes you to meet his "cousin," his "aunt," and so forth.
Be sure, when leaving the safety of your tropical all-inclusive resort, to take a large measure of caution along with you.  You don't want to invite criminal behavior, so stay away from troubled areas (ask your resort hosts – they'll tell you what areas may be unsafe).
Cheers,
Sheree Zielke
(You are welcome to comment.  Let me know if my blog has helped you.  Or add a comment if you feel I have missed an important point.  I don't mind correction.  A "dig" on a social networking site would be appreciated, too.  Just use the handy links below.  Subscribe to the Picajet Blog to receive notices of replies to your comments, and new blog postings.)
Tags: all inclusive vacations, dunns river, jamaica, martha brae river rafting, ocho rios, sandals resort vacations