San Antonio, Texas is, simply put, one heck of a great vacation destination.  It is family-friendly, it is easy to navigate, it offers many activities and adventures, and there are no crowds right after Labor Day.   But even when there are crowds (like on the Labor Day weekend), San Antonio is a must-see.  And, a caution here, a couple of days just won't be enough time.
Read on . . .
I just spent nearly a week in this charming old city, rife with Mexican and American history (you know the Alamo is here, right?  Did you also know that the Alamo is one of the city's oldest Spanish missions?).
But besides missions (and there are plenty — see my previous blog), there are so many other things to see and do in and around San Antonio.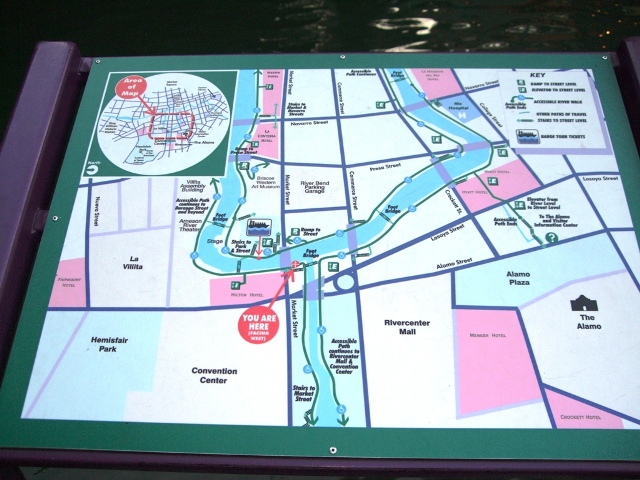 The Riverwalk is a must, whether on foot or by boat.  This winding waterway was created by a man in love: architect, Robert Hugman.  He and his new bride honeymooned in Venice, and when he got back, he decided that San Antonio was the perfect place for people-moving canals, too.   In only a few more years, this utterly charming tourist attraction will be extended to include the area of the San Antonio Zoo, and the old Spanish Missions towards the southern end of the city.  (Tip:  Visit the Riverwalk during the day, and then again at night.  It's a totally different experience.)
A visit to the Alamo is a must.  It's right in the heart of downtown.  But nearby is the old Crockett and Menger hotels — do visit these oldies, especially the Menger.  (Tip:  Have the Menger's luncheon buffet.  For $13/person, you will be treated like royalty.  The food is extremely good quality, and there is a huge variety.  And have a another piece of Pecan pie for me, won't you?)
Are you a people-watcher?  Me, too.  Besides the tourists (the city rakes in $10-billion a year in tourist dollars) there are an amazing array of locals, who are both friendly and memorable.  Be sure to click the yellow rose above to read about a wonderful old fellow I met while having supper in the Menger Hotel. What a character!
Then there is the Main Plaza, the Mexican Marketplace, the Botanic Gardens, the Witte Museum, the Japanese Sunken Gardens, and . . .  the list is endless.  Really.  And prices are reasonable.  Just check the places to find out their hours — some (like the museums) offer FREE entrance at certain times.
Outside of the city, you can take in the Natural Bridge Caverns, Six Flags, the African Safari park, or make a day trip to Austin.  But again, check each attraction's schedule or you might be disappointed.  We had our chops all set for a day at Six Flags only to discover the park is only open at Saturdays and Sundays, following Labor Day.
Wishing you safe and happy travels,
Sheree Zielke
Tags: holiday travel in texas, menger hotel, natural bridge caverns, riverwalk, San Antonio, texas attractions, things to do in san antonio texas