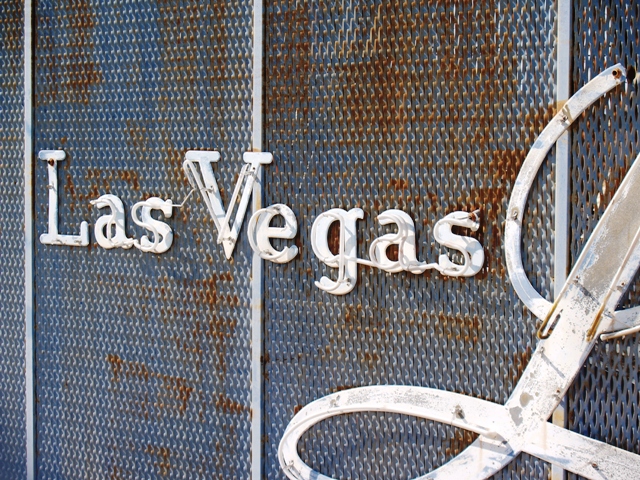 Are you planning a trip to that Mecca of Nevada: Las Vegas?  Maybe you have never visited this city of bright lights and money-grabbing  slots, or maybe you haven't been there in awhile. 
The good news?  Many things haven't changed. 
The better news? Many things have changed.  Especially at the airport and at the car rental building. 
Read on . . .
If you regularly rent a car when coming to Vegas (if not, you should – there is no better way to get around especially if you want to explore other parts of the city besides the crowded Strip), then you will love what Vegas has done at the airport.  Let me explain:
Your plane will arrive somewhere in McCarran Airport.  You might find yourself immersed immediately into Vegas's bright sunshine if you deplane down metal stairs to the tarmac.  You'll make your way into the airport, and then head towards the baggage area.  But you'll probably have to take this nifty tram between terminals.  Don't worry if you see a crowd of people – the trams are quick, have a large capacity, and arrive every couple of minutes.  So, when it arrives board to one side, and face the other – because you get off on the opposite side.
Once you leave the tram, enjoy the uniqueness of the Vegas terminal.  Avoid the slots here.  Airport slots are notorious for taking more than they give out.  Wait till you get to your hotel to give your money away.
Follow the multiple signs pointing the way to the baggage carousel, or rather, carousels.  There are a number of carousels; check the digital display above each one to locate your airline and flight number.  Don't stop at the first six – walk farther because there are more just down the way.
Once you have your bags, head out doors.  Look for signage indicating "Car Rental Shuttle Bus."  It doesn't matter which car rental company you are booked with because, unlike before, when you had to wait around for your particular rental car agency's bus, now there is only one bus.
The shuttles are roomy, air-conditioned, and a canned voice will even advise you on how to get to the Vegas strip once you pull away in your car.  You'll enter a huge building, locate your rental agency, do the paper work, exit to the parkade, find your car, and drive away.  The new system is so simple and efficient that you will forget those horrible times of yesteryear when getting your rental car took nearly as long as the plane flight.
Here are some tips that might come in handy when visiting Vegas:
Best non-huge theatre show: V: The Ultimate Variety Show (Funny, entertaining, not expensive.  Check for a FREE seat upgrade in a Travelocity "Pocket Guide" booklet.)
Best marguerita (generous serving, frozen, lime, and with a salted rim): 2 places – LaSalsa Cantina on the Strip (try their nachos, too) and the Guadalajara Mexican restaurant in Boulder Station (try their fresh guacamole made from scratch right at your table, too).
Most addictive fun-to-play-but-you'll-lose-all-your-money-while-playing slot machine: Wizard of Oz (Watch for Glinda to randomly come through your screen and turn sections of the screen "wild" and then give you a free spin.  And, for the most excitement, always try to pick the Flying Monkey bonus screen after you hit 3 Emerald City icons).
Prettiest indoor marketplace: Planet Hollywood's "Miracle Mile Shops" (brightly lit and a pleasure to walk – no shopping necessary – just sightsee.)
Most interesting up-and-coming architecture:  Veer Towers in the (currently under construction) CityCenter compound (look across the street from Planet Hollywood at these queer leaning twin towers).
Best photo safari: Neon Museum "Boneyard" (make an appointment first by calling 702-387-6366 to see rescured vintage Vegas signs. It's $15/person for a one hour tour).
Best day trip from Vegas: Route 66 between Kingman and Seligman, Arizona (it takes about 3 hours to get to this original strip of Route 66, but you will have a blast.  Be sure to have a cheeseburger and a chocolate malt at the Snow Cap in Seligman).
Whatever you do while in Vegas, don't spend all your time on the strip; it's just too crowded.  (And I don't care what anyone says, the Vegas Strip is NOT for children, especially at night when the "girlie" cards are being proferred to passers-by.)
If you don't have a car, ride the double-decker Deuce, but if you do have a car then drive to some of the outlying casinos like South Point or Green Valley or Red Rock.  You'll have a much better time than hanging out in the cramped smoky Strip casinos.  In fact, if you don't like smoke (we hate it), the Station casinos like Green Valley and Boulder have NO-smoking areas.  They are a real relief.  Their slot machines will still take your money, but you'll be able to breathe while it's happening.
Do you have some great Las Vegas tips to share?  Some insight that would help a fellow traveler?  Then please share here.
Wishing you safe and happy travels,
Sheree Zielke
Tags: best buys in vegas, best margarita in vegas, best show in vegas, how to get to your rental car from the las vegas airpor, las vegas nevada, mccarran airport in vegas, vegas strip