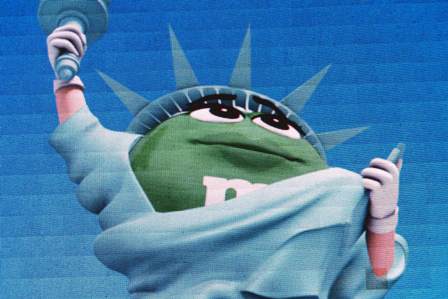 With millions of people, all eager to catch a glimpse of some of the world's best Fourth of July fireworks, where does a visitor – or for that matter – a local New Yorker go to catch the show? 
It'll be my first visit to New York during the 4th of July, and I wanted to do this visit up right.  I have already done Christmas and St. Patrick's Day – so I am expecting great things from New York City on Independence Day.
But I am glad I did the research first.  Here's what I discovered about how best to enjoy the Fourth of July in New York City. 
Read on . . . 
 
First things first, if you want the best seat in the house for the fireworks display, then you must buy a ticket.  Yes, a ticket.  That will guarantee you a seat at the big event. 
And just where is this big event? 
On Roosevelt Island.  Southpoint (southern tip of Roosevelt Island), to be exact.  There are other options, but this one seems to be the most popular, and the most sensible.  Especially for those of us who are kind of short.  With everyone seated in a chair, your view won't be obstructed.
Here's the official link to pre-buy your tickets.  $20/person this year.  Only kids under 3 years of age get in free – there are no age discounts available whatsoever.
There are a lot of NOs and DON'Ts that come with this ticket.  NO camera tripods or flash equipment are allowed; no coolers and no boom boxes are allowed either.  Here's the official list of things that aren't welcome when attending the Roosevelt Island fireworks event. 
But again, the good news is that everyone with a ticket gets a chair.  By the way, the fireworks are courtesy of Macy's.  If you check the Macy's site, you will find several other options for viewing the fireworks display which takes place in the sky over the East River.  
Gates open at 5 P.M., and the show starts at 9 P.M.  Take the F-train to Roosevelt Island Station.  Be prepared for VERY long lines both arriving and when leaving after the show.
But what about during the day? 
Here are a few suggestions:
Richmond Town Independence Day Celebration takes place in La Tourette Park on Clarke Avenue on Staten Island.  Event runs 11 – 5 P.M.  For more info, click HERE.
The Great July 4th Festival – the huge street fair comprised of hundreds of local vendors is located on Water Street, from Fulton to Broad Street. 
You can always just spend the day in Central Park.  It;s impossible to get bored meandering around New York City's huge midtown Manhattan parkland.
There are a vast array of other events both leading up to, and following the Fourth of July.  Check this New York magazine summer guide for more details.
What's your favorite way to spend Independence Day (in the USA) or Dominion Day (in Canada)?
Wishing you safe and happy travels,
Sheree Zielke
You are welcome to comment.  Let me know if my blog has helped you.  Or add a comment if you feel I have missed an important point.  I don't mind correction.  A "dig" on a social networking site would be appreciated, too.  Just use the handy links below.  Subscribe to the Picajet Blog to receive notices of replies to your comments, and new blog postings.) 
Tags: independence day in new york, macys fourth of july fireworks, new york city fourth of july, roosevelt island, watching fireworks from roosevelt island