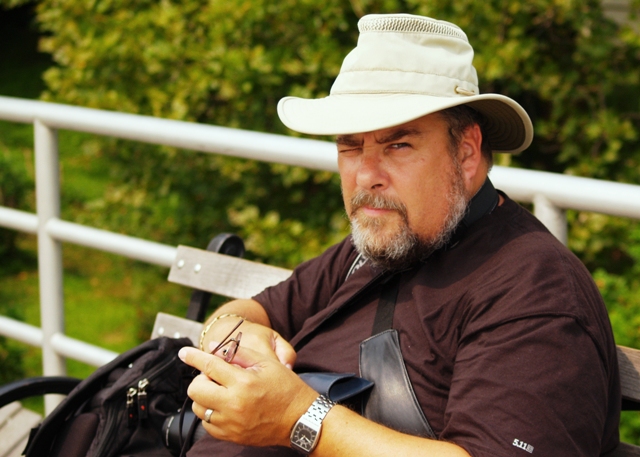 My husband can be a pretty grumpy traveler, but even he, with a few moderations to his attire, can be a happy traveler.  He had to stop wearing his lace-up shoes through airport security, for one thing.  But here are a few more tips to help make your flying experience more palatable.
I have a great deal of respect for the Frommers' people and their travel advice.  Recently, the travel site gurus ran a piece on what NOT to wear when flying.  The advice is simple, yet comprehensive.  It's great advice for anyone who hasn't quite figured out that, yes, Virginia, no matter what they taught you in school about being non-judgmental, on a plane, you will be judged by the clothes you wear.
Read on . . .
My first choice in comfort is always a pair of well-worn blue jeans, but if I want an upgrade to first class, then my brown cords, a nice collared shirt, and a pullover sweater or simple jacket are more likely to get me there.  It's true; airline employees check out the crowd, and choose to upgrade those folks who look like they belong in first class.
In addition, I now make better shoe choices when flying.  No shoelaces.  I wear Skechers with Velcro straps, or I wear backless leather clogs.  These are easy to remove when passing through security, and easy to put back on.  Hiking sandals with Velcro straps fit the bill, too, especially for my husband.
For those of you with leg-swelling issues, try a pair of socks designed for diabetics – no, not those black squeeze-the-life-out-of-your-legs kind, but rather the gentler ribbed socks sold in places like Wal*Mart.
Once on the plane, immediately take off your shoes, and pull on the knee-hi socks.  You will be amazed at the difference in your legs upon reaching your destination.  Of course, on very very long flights, you must get up and move around.  For more information, check out this article for great tips on how to prevent leg swelling while flying.
But back to clothing – wear layers.  Sometimes the plane can get very hot (you know, when you are stuck on the tarmac in Texas for a couple of hours), or very cold.  That's usually when no matter how hard you try to attract the attention of a flight attendant, they simply ignore you.  A light sweater, hoodie, or simple jacket is easy to remove, store, and retrieve.
Back to Frommers – here's an excellent article written by Christopher Elliott, with more detail on what NOT to wear during plane travel.  Or on any public transportation, for that matter.  If you are going to be in close quarters, and you will have no control over the temperature, these rules apply.
See, now he's a happy traveler.

Oh, and just before I sign off, here's a great tip for luggage identification.  Got a digital camera with you?  Snap pictures of all your luggage before sending it down the conveyor belt.  Ta-dah.  If the luggage goes missing, pull out your camera, and show the airline officials EXACTLY what your missing baggage looks like.
Wishing you safe and happy travels,
Sheree Zielke
You are welcome to comment.  Let me know if my blog has helped you.  Or add a comment if you feel I have missed an important point.  I don't mind correction.  A "dig" on a social networking site would be appreciated, too.  Just use the handy links below.  Subscribe to the Picajet Blog to receive notices of replies to your comments, and new blog postings.)
Tags: airport security tips, good clothing choices for travel, leg swelling while flying, lost luggage, luggage identification tips, what to wear on a plane