Alberta is one of the most beautiful places on earth. I should know. I live here. Yes, I travel to other parts of the world, and I do so frequently; I would go nuts if I didn't. But I love traveling in Alberta, too.
Alberta is home to the Canadian Rocky Mountains. Two of the most visited ski towns are located here, too: Jasper and Banff.
Travelers along the mountain highways will often be treated to the sight of flocks Rocky Mountain sheep (yes, they look like goats – but they are sheep).
Alberta is split into six tourism regions: Northern Alberta; the Canadian Rockies to the west; Central Alberta; Edmonton and area (central); Calgary and area (to the south); and Southern Alberta (deep south) with is badlands – just up from the American border.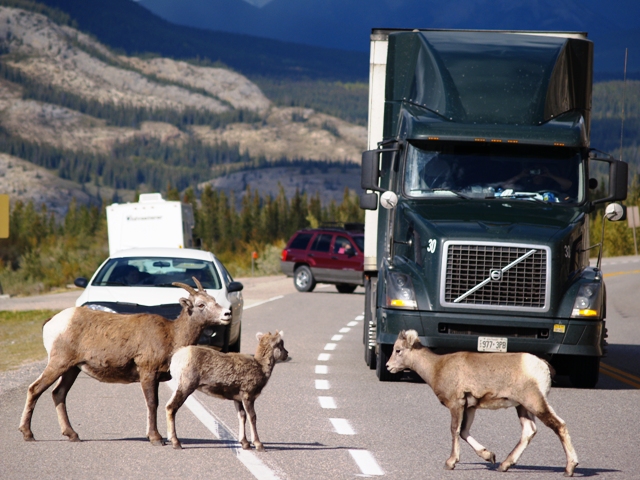 Can I pick a favorite area? Not a chance. Each area has its own unique charm.
If you are into dinosaurs, go south to Drumheller. If you are into oil rigs, go north to Fort McMurray. If you love skiing, head to Jasper. If you love the open plains, travel north to Fort McLeod. If you love civilization, visit Edmonton with its giant West Edmonton Mall. If you love a Wild West spirit, visit Calgary during its Stampede. If you love the open highway and thick forests, travel north to Grande Prairie.
Whatever you do, put Alberta on your "Bucket List."
Cheers,
Sheree Zielke
(You are welcome to comment. Let me know if my blog has helped you. Or add a comment if you feel I have missed an important point. I don't mind correction. A "dig" on a social networking site is appreciated, too. Just use the handy links below. Subscribe to the Picajet Blog to receive notices of replies to your comments, and new blog postings.)
Tags: Alberta, calgary stampede, edmonton, rocky mountain sheep, things to do in alberta, traveling in alberta, west edmonton mall